Natural History Museum in Paris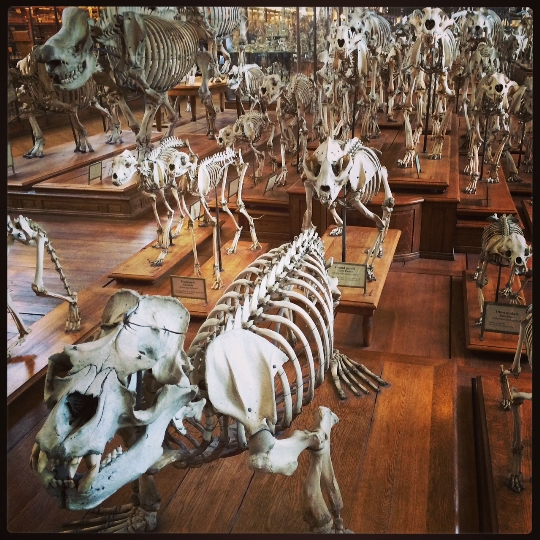 One of the very first French museums, it becomes an indispensable point of the excursion program in Paris for every curious traveler. It was founded in the 17th century, and since then millions of exhibits have provided food for thought to both a student and a schoolchild, and a scientist, and just anyone who is not indifferent to their own roots. More than 1,800 employees of the Museum of Natural History in Paris are well-versed in their work, because almost a third of them are researchers with various scientific degrees..
From A to Z"
The exposition of the Museum of Natural History in Paris is a half dozen organizations located not only in the French capital, but also in other cities of the country:
The metropolitan plant garden first appeared on the map of Parisian recreational areas in 1794. But its history began sixty years earlier, when the court doctors of Louis XIII began to grow medicinal plants in the V arrondissement of Paris for the needs of the royal pharmacy. The area of ​​the garden is 23.5 hectares, and it was here that the famous turtle Kiki lived for almost a century and a half.
The Vincennes Zoo is an equally popular part of the Natural History Museum in Paris. Its opening was timed to coincide with the Colonial Exhibition of 1931, and since then tens of thousands of visitors annually admire the species of wild animals, the conditions of which are as close as possible to natural.
At the end of the 30s of the last century, the Museum of Man in Paris also received its first visitors. At first, the basis of its exposition was made up of rarities from the "Cabinet of Rarities" of the 16th century.
A popular part of the Natural History Museum of Paris is the Great Gallery of Evolution, illustrating the diversity of wildlife and the course of its development. Three floors of the museum represent the diversity of flora and fauna of the planet and the influence of man on the natural environment.
The Mineralogical Gallery shows visitors one of the oldest collections of stones in the world, and some of the 600,000 exhibits are truly unique.
Paleontologists and those wishing to become one will find a lot of interesting things in the corresponding department of the Natural History Museum in Paris. The skeletons of almost all vertebrates that exist today, collected during the famous historical scientific expeditions of the 18th-19th centuries, form the basis of the exposition.
Useful little things
All exhibition halls of the Natural History Museum of Paris are closed on Tuesdays and May 1, and the exact schedule of their work, depending on the days of the week and the season, it is better to check on the museum's website or in travel agencies.
Photos