Small towns in Germany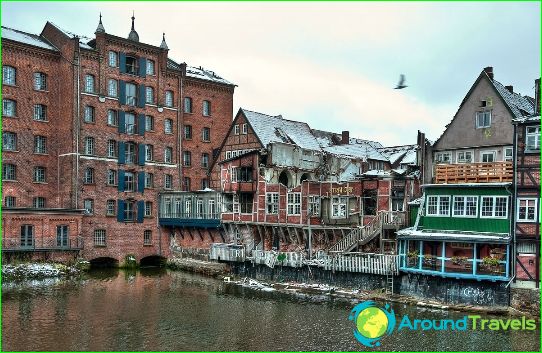 You can go on a trip to Germany an infinite number of times, remaining absolutely sure that each new visit the country will share new interesting impressions with an inquisitive tourist. One of these discoveries for connoisseurs is small towns in Germany, where many ancient sights have been preserved, and their inhabitants are especially welcoming, cordial and hospitable to those who show interest in their past and present..
Where the Romantic Path Leads?
One of the most postcard-recognizable small towns in Germany is Rothenburg an der Tauber, where the walls of half-timbered gingerbread houses are decorated with pots of variegated geraniums in summer and lots of Christmas lights in winter. Here the Route of Castles and the Romantic Route, famous tourist destinations, converge, and therefore all conditions have been created in Rothenburg so that every guest gets the most pleasant impressions from getting to know him. It's easy and quick to get here by train or a rented car from Munich or Frankfurt am Main.
A dubious architect
Having completed the spire of the Church of St. John in Luneburg, the architect was horrified to find that the structure turned out to be a little crooked, and jumped out of grief from a height of 108 meters onto the pavement. Fortunately, he fell into a hay cart and survived, and the slightly asymmetrical clock tower still remains the tallest in Lower Saxony and today serves as the main attraction of a small town in Germany. There is also a water tower in Luneburg, from where you can take panoramic photos of the city or just admire the surroundings..
Behind the mosaics in Boizenburg
More than four dozen bridges are thrown across the Boitse River and the old moat in this small town in Germany, for which Boitsenburg quite rightly earned the cute nickname "Little Venice of the North". Tourists are also attracted by the ancient architectural ensemble of the central part, perfectly preserved from the 18th century, and unique tiled mosaics on the city walls. Peacocks, mermaids and even an illustrated map of city attractions are lovingly laid out with tiles of different shapes and colors..
Into a useful piggy bank
Buses and trains marked with IC are the most affordable public transport modes in the country. Almost all small towns in Germany have a train or bus station, making it easy to travel between them..
Hotels in popular cities may not be too cheap, and therefore, when planning a trip, you should pay attention to nearby places that are not too popular..
To move around such cities, it is most convenient to use bicycles, which can be rented at information centers..
Photos