Zoo in Stuttgart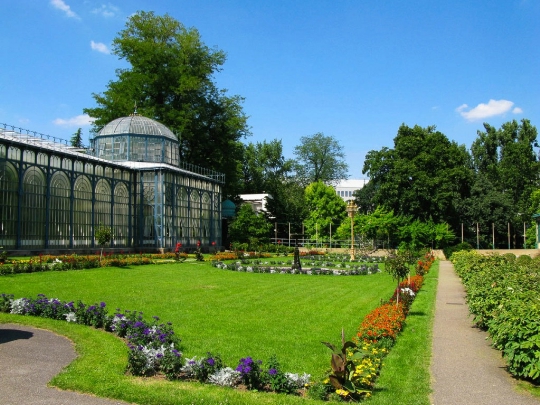 Wilhelm's palace complex in Bad Kanstatt in Stuttgart is familiar to many animal lovers. Here is one of the best zoological parks in the Old World, visited by millions of people every year. The Stuttgart Zoo appeared on the map in 1919 as a botanical garden, and in the middle of the twentieth century, here for the first time they began to show visitors and wild animals.
Ensemble of Wilhelm
The name of the Stuttgart Zoo is familiar to fans of eclecticism. It is in this architectural style that Wilhelm's palace and park ensemble was built, which today has become the home of eight thousand animals belonging to more than a thousand species. The kingdom of flora in Wilhelm is represented by 5000 plant species collected from all continents.
Aviaries here are arranged in full accordance with modern requirements for the comfortable keeping of animals, and therefore you can watch the guests of the park in their natural habitat. Magnificent examples of landscape design complement the landscape and, in conjunction with the botanical garden, the Stuttgart zoo looks especially impressive.
Pride and achievement
There is an incubator in Wilhelm where you can observe the chicks and their parents up close. The minimal barriers between visitors and guests of the park are the pride of its organizers, and therefore biology lessons are often held here for students of local schools..
The zoo is famous for its primate population, and the babies of gorilla and orangutan families were born in Wilhelm. Baby monkeys left without their mothers are brought here, because the experience of nursing them at the zoologists of the zoo in Stuttgart can be called unique.
How to get there?
The zoo's address is Wilhelmapl. 13, 70376 Stuttgart, Germany. You can get here by public transport - the Park Rosenstein metro station or the North Station S-Bahn stop, and a suitable tram route is U14.
Helpful information
The opening hours of the zoo depend on the season. It always opens at 8.15 and its ticket offices serve visitors until 16.00. Guests must leave the zoo in summer no later than 20.00. In winter - a little earlier with the onset of dusk from 16.00 to 18.00. The detailed work schedule is updated every month on the official website of the facility..
Ticket prices for visiting Wilhelma:
Adult - € 16.00.
Children (from 6 to 17 years old) - 8.00 euros.
Pupils and students (from 18 to 28 years old) - 10.00 euros.
Children under 6 years old can enter free of charge and must show a valid photo ID to validate benefits.
Services and contacts
The Stuttgart Zoo offers many recreational activities for children. Here you can spend an interesting and informative weekend, master folk crafts, take part in feeding animals and celebrate a birthday.
Official site - www.wilhelma.de.
Phone +49 711 54020.
Photos of Stuttgart Zoo