Water parks in Athens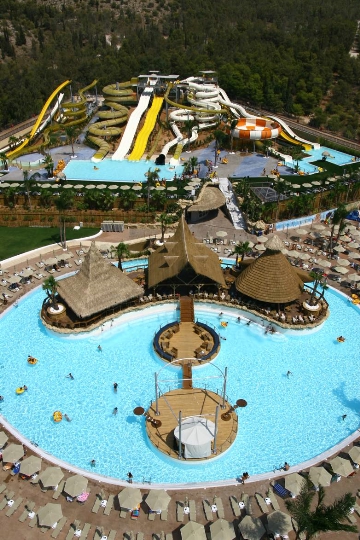 A visit to the Athens water park may well become an alternative to beach recreation - in addition to water attractions, guests here can take part in team games on the water and various entertainment events (concerts, discos, performances by the best DJs).
Water parks in Athens
Aquapark "Copa copana" equipped with:
pools, tunnels and slides "Turbo descent", "Rafting", "Black hole", "Great family descent";
a children's area in the form of a fairytale town on the water with a pirate ship (in addition, there is a playground for children in the water park with houses, labyrinths, trampolines);
cafes and bars;
a shop that sells products for water and beach recreation.
Prices for adults - 18 euros, for schoolchildren and students - 14 euros, for 3-6 year olds - 7 euros. It should be noted that in "Copa copana" are waiting for guests not only in summer, but also in winter - at this time of the year they will be able to take advantage of the snow slopes (this is important for skiers and snowboarders) and an ice rink.
During your vacation in Athens, you can visit one more water park - "Oropos Water Park" (it is located 3 km from the Greek capital): guests will surely be delighted with the presence of their own beach and about 20 attractions. Adults and children from 12 years old pay 9 euros to enter here.
Water activities in Athens
Would you like to stay in a hotel with a water park during your vacation? pay attention to "Sofitel Athens Airport", "Royal Olympic Hotel", "Divani caravel" and others.
Can't imagine a vacation without a beach holiday? You are recommended to go to Alimos Beach (active tourists will be delighted with the opportunities for water skiing and windsurfing, and couples with children - with playgrounds and a water slide), Kavouri Beach (on this free beach you can rent a sun lounger and an umbrella at a reasonable price, play beach volleyball, and since there are fish shops nearby, you will be able to try or take fish dishes with you there), Vula Beach (it will delight family travelers with its clean sandy bottom, and active vacationers with the presence of volleyball and tennis courts), Votsalakia beach ( will appeal to lovers of water sports).
If you wish, you can go to the mineral lake Vouliagmeni (the healing properties brought him fame; the entrance to the lake is 8 euros) - here you can swim, especially those suffering from skin diseases and rheumatic pains, and having problems with the musculoskeletal system; sunbathe on the sun loungers. It is worth noting that small fish live in the lake - they "will do" peeling entering the water (fish eat dead skin cells).
While vacationing in Athens, do not miss the opportunity to go on a three-day cruise to the Greek islands on a comfortable cruise ship (on the sea voyage you will be accompanied by a guide - he will tell you a lot of interesting things about the culture and history of Greece).
Photos