Beaches in Rethymno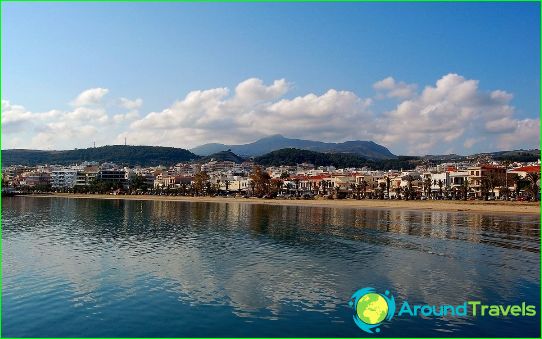 Rethymno is the most beautiful city on the island of Crete, which invariably attracts lovers of vibrant party life. But apart from many places of entertainment, Rethymno is famous for its beaches.. Beaches in Rethymno - it is an almost endless strip of the purest sand, stretching for 15 kilometers along the seashore. Many of them have an award that increases the prestige of the beach - «Blue flag».
Ligres beach
Excellent sandy beach located 48 kilometers from the city. It is not too crowded and will especially appeal to those who prefer peace and quiet..
Rethymno beach
This beach is located directly on the territory of the city itself and is always, however, like any urban beach area, full of people. The beach has a well-developed infrastructure: cabins where visitors can change clothes, showers, toilets, comfortable sun loungers under large umbrellas. On its territory you will find many cozy cafes.
Pianos Kampos beach
This beach area is located 9 kilometers from the city and has a sand and pebble cover. There are sun loungers and umbrellas at the service of vacationers, under which you can hide from the scorching heat of the Cretan sun. There are numerous hotels near the beach where you can rent a room if you wish.
Adelianos Kampos beach
This beach area is located 7.5 kilometers from the city. The beach is well equipped. There are umbrellas with comfortable sun loungers located under them, cabins where everyone can change into a bathing suit and, of course, numerous beach bars. This is what makes Adeltanos Kampos very attractive to young people..
Plakias beach
Another place where you can plunge into the waters of the warm Mediterranean Sea. It is located 34.5 kilometers from Rethymno in the village of the same name. The infrastructure of the beach is well developed and this becomes one of the most important reasons for many tourists to visit this particular place..
There are many hotels where you can book a cozy room, and you can also rent individual apartments. There are numerous taverns on the beach, where you can try fresh fish or traditional Cretan cuisine. The beach has a well-developed water entertainment industry.
Kumbes beach
This place is located near the city, about 3 kilometers away and can be reached here by regular bus. Kumbes is completely sandy with excellent access to the sea.
The beach has a standard minimum of equipment: umbrellas, sun loungers, places to change from casual clothes to beachwear, and showers to rinse the salt out of your hair. If you wish, you can rent a separate apartment here. If you are not a fan of the classic beach holiday, then you can try your favorite water sport. The beach has a wide coastline, so there is enough space for everyone..
Photos of the beaches of Rethymno