Wines of greece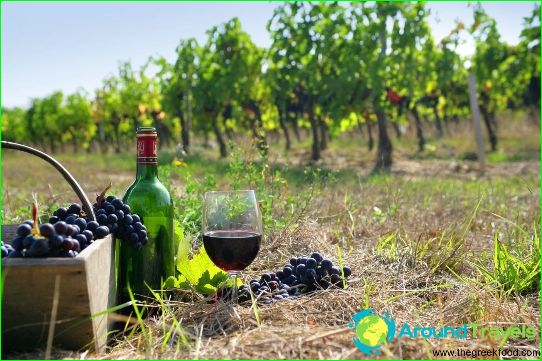 It is not surprising that it was in the homeland of Dionysus, the god of winemaking, that the first amusing drinks appeared. Archaeologists and historians claim that the wines of Greece were already known eight thousand years ago, and in the days of Ancient Rome it was they who were served at the table of the emperors. The eventful history of Greece is reflected in winemaking. It has experienced ups and downs, and modern wine production in Greece began to develop in the middle of the 19th century..
Regions and categories
All wines in Greece are divided into four categories:
The cheapest and simplest are called canteens..
Locally produced wines whose origin is not indicated on the label.
Top quality wines, the origin of which is reflected on the bottle.
Signature wines. During their production, special control is carried out, and the quality is guaranteed.
Vineyards in Greece are the most common agricultural land, along with olive groves. Almost every Greek family in the countryside has its own vineyard and produces wines for their own needs. The climate in Greece is favorable for the cultivation of wine berries, and therefore winemaking has become one of the main export destinations..
The largest amount of grapes is produced by plantations in the Peloponnese and the island of Crete. The wines of Crete have always been famous for their special quality and have been appreciated since the days of Ancient Rome..
What to choose?
All Greek wines differ in color, sugar content and other parameters. Almost every winery produces white and red wines, and rose wine is in particular demand among the female half of the tourist fraternity in Greece..
Depending on the degree of sparkling wine, Greece can be "calm", half-melted and foamy. The most sparkling ones are subdivided into semi-carbonated and carbonated ones. The classical grading of wines in Greece is also adopted depending on the sugar content. The drink is dry, semi-dry, semi-sweet and sweet..
The most popular white wine in Greece is obtained from the Asirtiko grape variety. It produces rich and full wines with a mild fruity character. The wines obtained from Athiri grapes are softer, while the Vilana wines have a characteristic citrus bouquet..
The raw material for the production of rosé wines is most often the Roditis grape variety. The product is light and noble with a slight hint of melon and peach. Savatiano produces elegant wines with floral notes in the aroma, which are especially successful in the Attica region..
Photos