Airport in Tel Aviv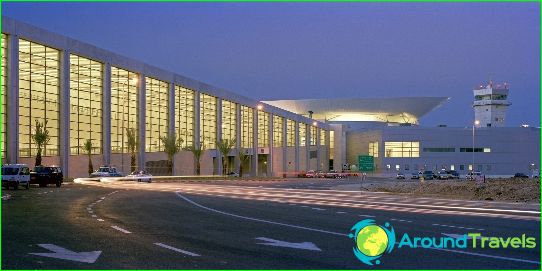 The official name of the airport in Tel Aviv is Tel Aviv Ben Gurion International Airport. Its international name is Ben Gurion International Airport, the three-letter international code is TLV.
The airport is located 20 km south-east of the capital of Israel. The airport is the hub of major Israeli carriers Arkia Israeli Airlines and EL AL Israel Airlines. Ben Gurion is one of the safest in the world. It is guarded by squads of police officers, Israeli army soldiers and private security guards..
The airport has a total of four terminals, of which only two are operating. Buses run from terminal to terminal, this allows you to move mobile from domestic flights to international.
Local (or domestic) airlines and a number of charter flights are served by Terminal 1. The main international flights are served by multi-level terminal No. 3. At the zero level (in our opinion, on the 1st floor) of the terminal there are waiting rooms, on the level above there are the check-in counters and the Duty Free zone..
Service and services
In terms of comfort level, the airport in Tel Aviv meets all international requirements. A simple navigation system, there are signs everywhere, traffic patterns, informational announcements. In addition, additional information (including in Russian) can be obtained from information bureaus. A variety of cafes and restaurants are available to passengers. There are bank branches and bank counters where you can change currency, make a money transfer or withdraw money. Free internet is available throughout the airport.
Travel
There are several ways to get from the airport to your destination:
by train - this type of transport is the most popular among tourists. In the daytime, the train interval is 20 minutes, at night - an hour. Monday - Thursday and Sunday trains run around the clock, on Friday - from 24:00 to 15:00, and on Saturday from 20:40 to 23:10. A ticket costs 14.5 shekels (about 140 rubles) In Tel Aviv, at the exit stations, turnstiles are installed, so tickets are stored until the end of the trip.
by bus - buses No. 21, 23, 24 run every 15 minutes on the airport - Tel Aviv route. The beginning of the movement is at 5:00 am, the end of the movement is at 22:00. Bus number 475 goes to the bus station, bus number 222 - to the railway station. The ticket costs 16 shekels (150 rubles)
by minibus (minibus) - a ticket costs 30-40 shekels (280 - 300 rubles), travel time 30-40 minutes.
by taxi - the parking lot is located just outside the arrivals terminal. The trip costs 250 shekels (2300 rubles)
Photos Tel Aviv airport