Airport in Rome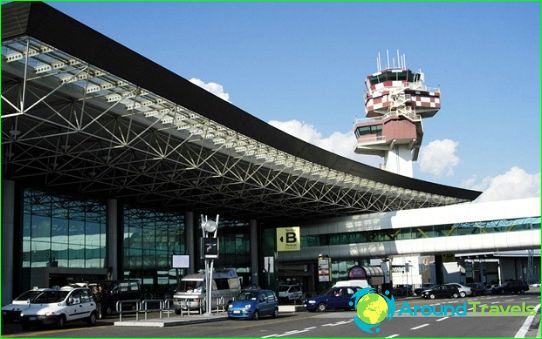 Rome is the largest city in the world, and therefore two airports belong to the city: Leonardo da Vinci Airport (also called Fiumicino) and Ciampino Airport. Both the one and the other airport in Rome carry out international transportation, which means that from Russia you can fly to Italy to any of them.
Leonardo da Vinci Airport (Fiumicino)
This airport is located 30 kilometers from Rome itself, in the small town of Fiumicino (which explains its second name). It is the oldest airport in Rome, opened on 15 January 1961.
The airport currently has four terminals.
The easiest way to get there is by car if you follow the A91 motorway from Rome. In addition, there are trains (from Termini station - the central station in Rome) and buses to the airport.
In order to check in for an international flight, it is better to arrive two hours before departure. For domestic flights, you must arrive an hour and a half in advance.
Many services are offered at Fiumicino Airport, including parking spaces, a first-aid post, banks, luggage storage, luggage trolleys and packaging, post office, VIP lounge, business center, conference room, as well as internet, tourist offices and of course all kinds of restaurants, bars, cafes and duty-free shops.
Ciampino airport
The second name is the airport named after Giovanni Battista Pastine. One of the oldest operating airports in Europe - it opened back in 1916. After the Fiumicino airport was opened, through which most international flights began to pass, Ciampino airport was reoriented to domestic flights. But since 2008, it has become a destination for many low-cost airlines..
The airport is located 12 kilometers from the center of Rome, in the southeast, in the Lazio region. Unfortunately, there is no train connection to Ciampino. The easiest way to reach it is by shuttle bus, which departs from the central station of Termini in Rome and from the Ciampino station. As with Fiumicino Airport, it is recommended to arrive two hours before the departure of an international flight and an hour and a half before departure for a domestic flight..
The most important services offered by the airport: a medical center, a parking lot, various banking institutions, the ability to use a luggage trolley and pack it, free internet, as well as a VIP room, a conference room and, of course, numerous duty-free shops, bars , restaurants and cafes.
Photos of Rome airport