Prices in Lido di Jesolo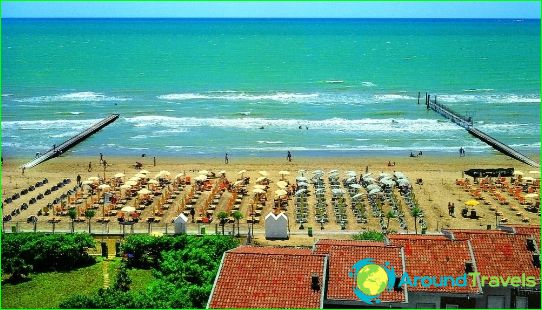 The Italian resort of Lido di Jesolo is located on the picturesque Adriatic coast. It is widely known for its luxurious beaches. Here, both a calm beach holiday and an active pastime are possible. Prices in Lido di Jesolo can be called pleasant, although this is not the cheapest resort on the Adriatic.
Residence
Accommodation prices are dictated by the tourist market of the Venetian Riviera. The cost of the tour depends on the category of the hotel and the richness of the program. Cities such as Venice and Florence are located near Lido di Jesolo. Therefore, many travelers prefer combined tours with short stops in each city. The average tour price excluding air tickets is $ 1,500 - $ 2,000. Accommodation will be in a 3 * hotel. More prestigious hotels are more expensive - about $ 3000. To save money, use the last minute tour. Sometimes there are vouchers worth no more than $ 800. The cost of a room in a 5 * hotel starts from US $ 400 per day.
Entertainment and excursions
Lido di Jesolo is a rather expensive city. If you want the rest program to be eventful, you will have to spend money. The convenient location of the resort allows vacationers to travel to neighboring cities. Excursions to Florence, Padua and Venice are popular. The tour can be booked in advance online or purchased at any travel agency in the resort. A one-day tour to Venice will cost 50 euros per person. Excursion to Verona with a visit to Lake Garda - 55 euros, a day trip to Florence - 90 euros. There are many historical monuments in Lido di Jesolo: the Church of Il Cristo, the islet of Porte de Cavallino, the Torre del Caligo tower, etc. A walking tour of the city costs about 30 euros.
Tourists generally devote all their time to beach activities. The resort's beaches stretch for 14 km. Each hotel has its own comfortable beach, where sun loungers, umbrellas, sun loungers are provided free of charge.
Food costs
The city has many eateries, restaurants and cafes serving European and Italian cuisine. There are cafes offering delicious desserts, as well as pizzerias. Ice cream is sold everywhere at a price of 2-5 euros per serving. In a cafe, prices are quite affordable. The restaurants' menus include a variety of meat and fish dishes, as well as traditional pasta, risotto and pizza. The average cost of a dinner without drinks is 30-50 euros per person. You can dine at the restaurant for 40 euros. You can drink coffee for 1.5 euros and cappuccino for 2 euros. There is a Japanese restaurant in Lido di Jesolo. Average bill for lunch is 50-70 euros per person.
Photos