Water parks in Bishkek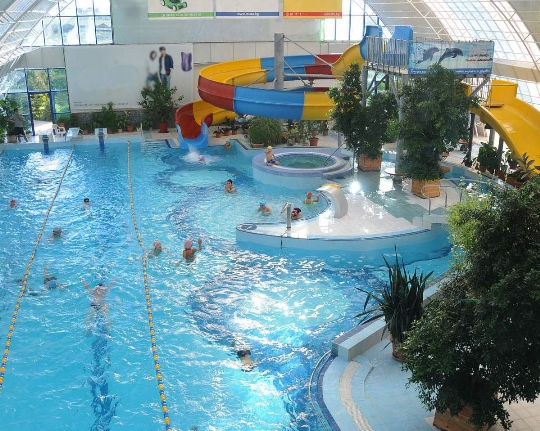 On vacation in Bishkek, you should visit local water parks - plunge into the water element, where, in addition to fun entertainment, guests will have a comfortable environment.
Water parks in Bishkek
Bishkek water park "Ala-Too" has:
children's, sports, adult pools (thanks to individual or group special classes, those who wish can learn to swim);
6 water attractions (popular "Aladdin's lamp" and flood zone);
sauna;
restaurant and cafe (Kyrgyz and European cuisine on the menu).
As for the evening program, guests are delighted here with parties. "Aqua night". The cost of visiting the water park is 500 soms / 3 hours (a child ticket costs 300 soms / 3 hours).
Aqua Club "Calypso" equipped with 4 outdoor pools, 2 children's pools (there are slides and "fungus"), summer teahouse, indoor pool with slides, jacuzzi, hydromassage. In addition, the complex provides additional services in the form of massage, swimming training, aqua fitness, aqua aerobics, Pilates, yoga and dance classes. Entrance fee: adults from 14 years old - 500 soms, children 3-14 years old - 300 soms.
Water activities in Bishkek
Those interested in swimming pools should pay attention to the swimming club "69" (single visit - 200 soms / adult, 100 soms / child), sports and recreation center "Zhashtyk" (one-time visit - 100 soms), sports complex UDPR (one-time visit - 120 soms), Prado swimming pool (one-time visit - 250 soms).
The complex deserves special attention "Sun City" - it is equipped with 4 outdoor pools, including children's and VIP, sun loungers, a bar and a fast food establishment (a whole day of stay will cost 650 soms, and swimming from 21:00 to 6 am - 400 soms), and "MartiniTerazza" (in addition to the pool, there is a bar with sofas for relaxation; 1 day stay - 500 soms).
While vacationing in Bishkek, you should not ignore the main water bodies of the city - Komsomolskoye and Pionerskoye lakes. Lifeguards are on duty on the beaches equipped around them, changing rooms, a shop and a rental point are functioning (you can rent a boat or catamaran).
Another place where you can spend time is the beach of the hydroelectric power station-5 reservoir (there is a cafe with soft drinks and national dishes, awnings from the sun, a tower for those who want to dive; entrance to the reservoir - 20 som / 1 person, riding a catamaran - 50 som / 1 hour).
And if you wish, you can go to Lake Issyk-Kul (famous for curative mud; if necessary, you can stay in one of the sanatoriums, boarding houses, hotels or recreation centers) - there, in addition to beach recreation (sand, crystal-clear water), entertainment is available for guests in the form boat trips, descents from water slides, riding on catamarans, yachts, jet skis and bicycles, parasailing, surfing and diving.
Photos