Prices in Kyrgyzstan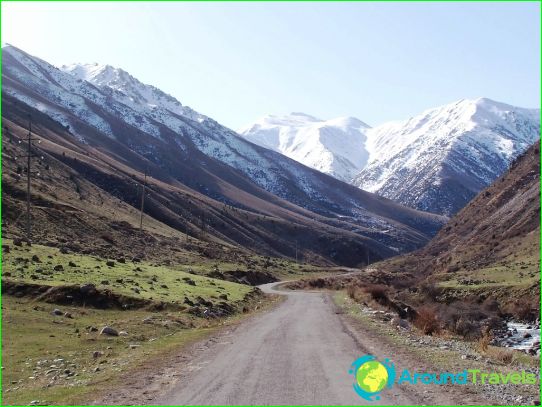 Prices in Kyrgyzstan are low, therefore, having gone here, you can count on an inexpensive vacation.
Shopping and souvenirs
Those who come to Kyrgyzstan for shopping should take into account that local shops are open from 08: 00-17: 00 (prices are strictly fixed here). But it is advisable to visit local markets in the morning, and the earlier, the better (bargaining is appropriate here).
It is worth bringing from Kyrgyzstan:
national clothes, felt carpets, interior items, various amulets, silver jewelry, chess with Kyrgyz patterns, leather accessories, photographs and paintings with Kyrgyz landscapes, ceramics;
cognac, nuts, honey, dried fruits, koumiss, balsams Arashan and Ala-Archa.
In Kyrgyzstan, you can buy various fridge magnets - from $ 1, cognac - from $ 10.
Tours
An excursion to the Grigoriev Gorge will cost you $ 8, and to the salt lake Kara-Kel with lunch - $ 20.
On a sightseeing tour of Bishkek, you can walk along Victory Square and Youth Alley, visit the Kyrgyz National Philharmonic Society, the Historical Museum. The approximate cost of the excursion is $ 21 per person (provided that the excursion will be attended by 10-15 people).
On excursions "Chon-Kemin and Burana tower" you will climb the tower and visit the open-air museum. And then you will be taken to a guest house located in the Chon-Kemin valley, where you can enjoy nature, fresh air, ride a horse and enjoy national dishes. An excursion, which will be attended by 10-15 people, costs about $ 100 (with lunch) for 1 person (if you decide to go on this excursion together, then for 1 person you will pay $ 200).
If you wish, you can go on a two-day excursion involving a visit to the Kara-Kel lake, Barskoon waterfall, the Jety-Oguz and Karakol museums. The approximate cost of the excursion is $ 53 (meals are included in the tour price).
You can fly on a parachute over Lake Issyk-Kul for $ 26/1 hour, ride water bananas - from $ 6/1 hour, ride horses - from $ 5 / hour horse ride.
Transport
You can travel between Kyrgyz cities and villages by buses and minibuses. For example, you can get from Bishkek to Balykchi by bus for $ 3.5, and by minibus - for $ 4.5. If you wish, you can rent a minibus together with a driver: a day of rental will cost you $ 50-60. If you decide to order a taxi, then a trip within the city center of Bishkek will cost you no more than $ 1, and the fare from the center to the bus station is $ 1.5.
Daily expenses on vacation in Kyrgyzstan will be approximately $ 45-60 per person.
Kyrgyzstan
Photos