Holidays in Latvia in April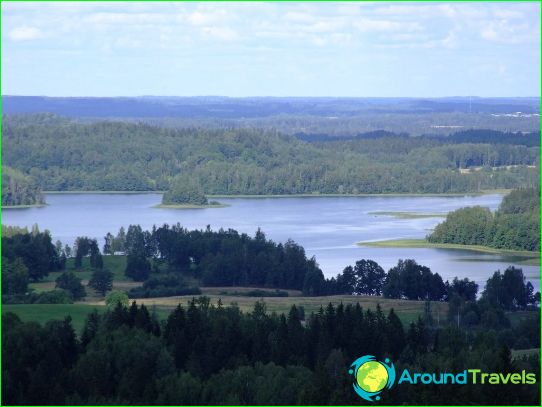 Locals treat their history with love and awe, preserve national traditions and confidently master new facets of the tourism business. Fortunately, a well-developed infrastructure, masterpieces of urban architecture and rural landscapes are available.
Perhaps someone will think that it is premature to spend a vacation in Latvia in April due to unstable weather. But the most daring, not afraid of temperature changes and spring rain, joyfully welcoming the tourist, will not regret the chosen time of travel to the Latvian beauty..
Transport connection
There are no problems how to get to this European country. Everything is like in Gaidar's famous fairy tale: planes are flying - fireworks, Latvia. Steamships are sailing (in this case, ferries) - fireworks, country. As well as trains, buses and all personal transport.
April weather in Latvia
Since the country has grabbed a piece of the Baltic coast, the influence of the sea is felt very strongly. The climate is transitional, from maritime to continental. The average April temperature is the same in Riga, Daugavpils and Jurmala. The thermometer has chosen the number +10 ° C during the day, and returns to +1 ° C at night. For an experienced tourist, this is just a sign of which wardrobe is the most appropriate for an April trip. It is important to pay attention to footwear due to frequent rains and wet weather, as well as waterproof windbreaker jackets with hoods.
Attractions of Latvia
It is better to devote April days to excursions in Latvian towns and villages. Visiting national parks and rural landscapes is best reserved for summer vacations.
The largest number of monuments and amazing places are concentrated in Riga. The first place in the list of attractions is occupied by the majestic Dome Cathedral, which solemnly celebrated its 800th anniversary.
The historical center of Riga began to form much later, but there are also masterpieces of architecture here. Most of them are built in Art Nouveau, which is known as Art Nouveau in the middle latitudes. Riga is proud of its Statue of Liberty, similar to its American counterpart, but a Latvian girl holds three stars in her hand, a symbol of the country's unification.
A few things that experienced tourists recommend to do to guests of Latvia:
Climb 72 meters up the elevator located in the church of St. Peter.
Have a tasting of the famous local balsam at a bar called «Black Riga magic».
Go to admire the House of the Blackheads.
Photos of rest in Latvia