Streets of Daugavpils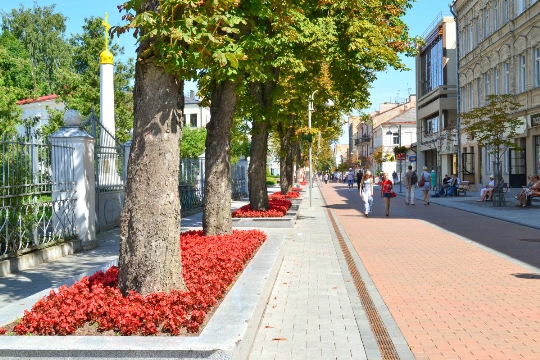 Daugavpils is considered the second largest city in Latvia. Its history began a long time ago, in the documents they write about it since 1275. Today the main streets of Daugavpils are being reconstructed. Daugavpils had different names. It was designated as Dinaburg, Dvinsk, Borisoglebsk, etc. The city belonged to Lithuanians, Russians, Poles. The mixing of cultures and stories has determined the specific atmosphere of Daugavpils.
central District
Large-scale works are being carried out in the city center, on Rigas Street. This street received its designation in honor of the capital of the country. Architectural landmarks located here are confirmation of various historical events. Earlier, the business and trade life of Daugavpils was concentrated on Rizhskaya. On Rizhskaya there are many beautiful buildings built in the past centuries. Locals call this place Broadway. Rizhskaya Street is covered with beautiful paving stones. Construction in this part of the city was carried out at the beginning of the 19th century. Therefore, every building on Rigas has an interesting history. Red brick houses prevail in Daugavpils.
A large number of wooden buildings have survived in the city. Houses that belong to the wooden buildings of the 19th century can be seen in the following microdistricts: Old Forstadt, Griva, Old Slings, Staraya Pogulyanka.
The city at different times was part of Livonia, the Commonwealth, the Russian Empire. It has always been the most important transport hub and trade center. After World War II, the city was considered the regional center of Latvia. Its historical part was recognized as a monument of urban planning.
Top attractions
A well-known structure is the dam, which has a height of about 9 m and a length of about 6 km. It was erected near the Daugava River in order to protect the settlement from floods. The pearl of the city is the old fortress, recognized as the largest among the European fortresses. It dates back to the early 19th century and is a famous architectural monument..
In the historic center, there are buildings in the Latgalian Baroque style. Facades of buildings are made of red brick and differ in original forms.
If you move along Rigas Street, you can see the most significant architectural structures of Daugavpils. There are 80 historic buildings there. In the last century, this street was considered a pedestrian street. In the central part there is a park created by the mayor of the city P. Dubrovin. The park bears the name of its founder and is a popular holiday destination. Daugavpils recreational area is located in the northeastern region.
The House of Unity is located between Saules and Rigas streets, where there are shops, a bank, a cafe and a library..
Photos of Daugavpils streets