Streets of Vilnius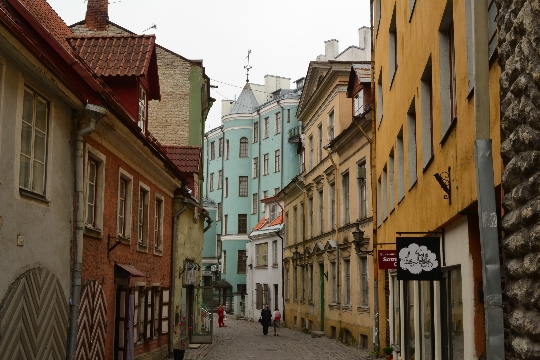 Vilnius, the capital and transport center of the country, is located in the south-east of Lithuania. The area occupied by it is approximately 400 square meters. km. From this city there are highways to Klaipeda and Panevezys. The streets of Vilnius have repeatedly experienced the destructive impact of wars and civil strife. But the old part of the city has survived to this day. Vilnius was founded in 1323. The 15th century is considered a favorable period, when many monasteries, stone houses and churches were built in Vilnius. A large number of new streets arose after 1471. In the 19th century, the city was the third largest city in Eastern Europe. After 1940 it became part of the USSR. At this time, streets and squares with Soviet names appeared in Vilnius. In 1990, the capital of Lithuania again became independent from the USSR, in connection with which the historical designations were returned to the streets..
Gediminas Avenue
The central wide street with ancient buildings is Gediminas Avenue. Today it houses shopping centers, boutiques, departments, ministries, restaurants. The avenue stretches for 2 km and is a concentration of interesting sights. It ends with the Cathedral Square. Gediminas Avenue was previously called Mitskevich, Stalin, Lenin Avenue. Its modern name is dedicated to the great Lithuanian prince Gediminas. The main institutions of the state are located on this avenue.
Cathedral Square
It is located in the center of the historical part of the city. There you can see buildings in different architectural styles: Gothic, Renaissance, Baroque, etc. The monument to Prince Gedimin is located in this area, next to the national symbol - Gedimin's castle. It is believed that the construction of the city began with him. A historical exposition is open in the castle tower. A beautiful view of the Old Town opens from the top of the tower.
Pilies street
Another main artery extends from the Cathedral Square. This is Pilies Street, which is the hallmark of the city. The pavement is covered with red bricks, and there are houses with tiled roofs along the street. There are cozy restaurants, souvenir shops, galleries and museums. Late Gothic St. Anne's Cathedral is located on Pilies Street.
Literatu street
It is a short and narrow street that is considered the oldest in Vilnius. In the 19th century, it housed bookstores and printing houses. This fact led to the emergence of an interesting street name. The poet Adam Mickiewicz once lived here. Literatu is distinguished by buildings with an unusual design. There are plaques on the walls dedicated to writers and poets of different times.
Photos of Vilnius streets