Rest in Palanga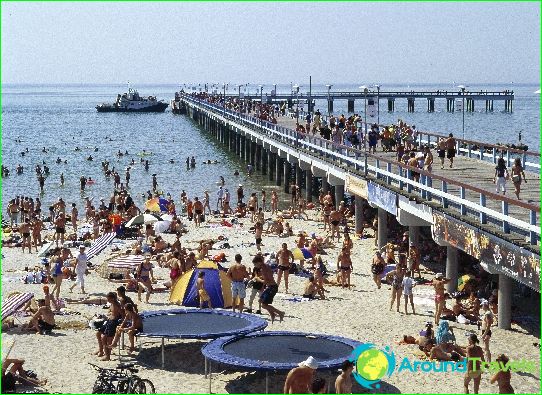 Rest in Palanga is sea air saturated with pine aroma, large clean beaches, health resorts and spa centers, charming nature, delicious Lithuanian cuisine.
The main types of recreation in Palanga
Excursion: as part of excursion tours you will walk through the Botanical Garden, visit the Tyshkevich Palace (the Amber Museum is located here), the Primorsky Regional Park, see Mount Birute, the Church of the Blessed Virgin Mary. Those wishing to get to know more about Lithuanian cuisine can go to Basanavičius Street, which is famous for its many restaurants, cafes, and barbecue. And with children it is worth walking along "Children's street" - there is an amusement park, toy and children's clothing stores.
Active: tourists are invited to play tennis or mini golf, ride a horse along themed walking trails ("Trail of riddles", "A forest for all", "Hedgehog trail'), go go-karting or surfing, spend time in the entertainment complex "JuozoAlus" (at guests' service - restaurants, swimming pool, sports grounds, play areas for children, spa-complex, sunbathing terraces).
Wellness: to heal and strengthen the immune system (doctors send here those suffering from diseases of the nervous, reproductive, cardiovascular and musculoskeletal systems) at the resort is possible thanks to the waters from mineral and thermal springs. The main therapeutic factors are peat mud, sea and chloride sodium-calcium water, therapeutic exercises, inhalations, massages.
Beach: local beaches are sandy and spacious: here you can change clothes in special booths, play beach volleyball and take part in amateur tournaments, rent a catamaran or pedal boat, jump on trampolines.
Prices for tours to Palanga
It is advisable to plan a vacation in Palanga in the period from May to September (prices increase by 20-30%). It is worth considering that the most expensive tours to Palanga are sold in July-August (prices increase by 35-45%). You can relax in this Lithuanian city at attractive prices during the low season (October-April), except for the New Year and Christmas holidays..
On a note!
Are you going to Palanga for the first time? Upon arrival, take a look at the tourist center on Vitauto Street - here you will be given a free map of the city, on which important excursion sites are marked. If you are on a budget, then it is worth considering that there are expensive cafes and restaurants near the city center, therefore, in search of democratic institutions, you should go to small family restaurants and cafes far from the center (it is customary for waiters to leave a tip in the amount of 10% of the bill).
As a souvenir of the rest in Palanga, you can bring liqueurs, amber products, ceramics (plates, ashtrays), woolen and knitwear.
Photos of rest in Palanga