Holidays in Lithuania in October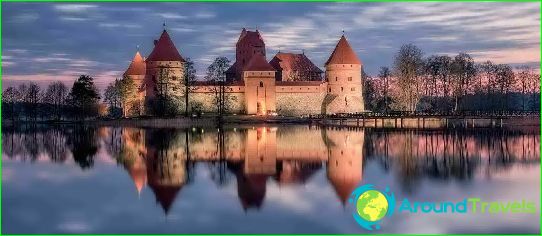 In October, you can feel real autumn in Lithuania, because rapid changes in weather conditions contribute to this..
During this period, there are often rainy days, so you must definitely take an umbrella with you. There are few sunny days, and the sun warms slightly. The air temperature during the day can be + 10 ... + 12C, and at night - + 3 ... + 4C. The water near the coast cools down to +15 degrees, so the beach season is over. Despite the fact that the beach season is over and the weather conditions are rapidly deteriorating, in October you can have an interesting and pleasant time in Lithuania.
Holidays and festivals in Lithuania in October
Holidays in Lithuania in October is an opportunity to enjoy exciting events that open the boundaries of the musical world. So, what events should music lovers attend??
The Vilnius jazz festival is held in Vilnius and is international, therefore it attracts many tourists. The festival does not have a single venue, so the participating musical groups perform in various theaters and clubs. Despite the fact that there is no single platform, the level of Vilnius jazz can only please, because it allows people to enjoy the creativity of musical groups from Lithuania and other countries of the world, representing amazing jazz.
Lithuania holds the Contemporary Music Festival in October «Gaida». The purpose of the event is to popularize professional academic music. Anyone can discover the experimental and unconventional work of talented composers, which makes an unforgettable impression. Despite the fact that the festival is dedicated to academic music, each performance deserves admiration and applause.
How can you travel in Lithuania in October?
Prices for tickets and hotel rooms are cheaper and the tourist flow dries up, so there is an opportunity to get positive from travel. You can go on various excursions and see famous landmarks, do shopping and organize an eventful vacation. Affordable prices, which are set in October, will allow you to allocate more money for entertainment, so that your trip will be remembered for a long time.!
Vacation photos in Lithuania