Water parks in Druskininkai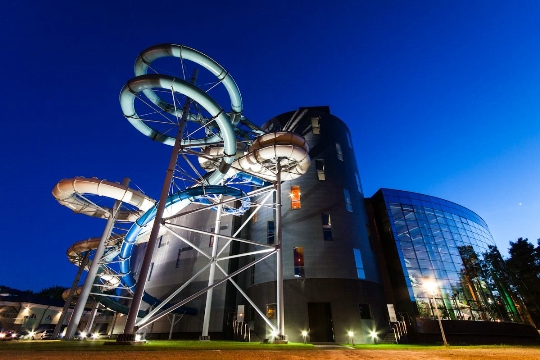 Going on vacation to Druskininkai? Here you will find a local water park, where you can escape from workdays and spend time with pleasure and benefit.!
Water park in Druskininkai
Druskininkai Water Park pleases visitors:
water complex with an artificial mountain, water cascades and waterfalls, a tower, 6 open and closed slides ("Bermudai", "Srautas", "Adrenalinas", "Azartas"), swimming pools (there is a pool with sea waves - the generator creates 3 types of waves, rising to different heights up to 1.5 m, as well as with hydromassage, a pool for swimming, training, gymnastics), "stormy river" (to go with the flow, you should use a special circle);
a zone for children, stylized as a jungle, equipped with caves, a mountain river, a sandy beach, "monkey" bridges (special personnel work in this area - if necessary, they look after 5-14 year old children);
bath complex with 20 baths: it is equipped with dry saunas ("Eldorado", "Kantri", "Infra", "Modern") and steam baths ("Amber", "Afrodita", "Aida", "Faraon"); you can take advantage of special treatments such as face masks made from Black Sea salts or honey, chocolate or seaweed body masks;
cinema 5D Cinema (assumes the simultaneous presence of 1-4 people - there are no viewing schedules, so after waiting for your turn, you can select any movie and watch it);
sports club "Aqua gym" (there are strength and cardiovascular equipment);
catering establishments.
The cost of tickets for water activities: adults - 11 euros / 3 hours (on weekends - 15 euros), 3-6 year olds - 5.5 euros (on weekends - 7.5 euros), 7-17 year olds - 10 euros ( on weekends - 11.5 euros), and a full day of stay will cost guests 14, 8 and 13 euros, respectively (on weekends - 23.5, 11 and 17.5 euros). The cost of tickets for water activities + visit to the bath complex: adults - 12.5 euros / 2 hours, and the whole day - 23 euros (on weekends - 18 euros / 2 hours, and all day - 30 euros), people aged 60+ - 8 euros / 2 hours, and all day - 15.5 euros (on weekends - 14.5 euros / 2 hours, and all day - 25.5 euros). It is worth noting that for renting a towel, guests will be asked to pay 0.87 euros, a bathrobe - 1.45 euros, a vest - 1.45 euros, and they will be offered to buy honey for massage for 4.5 euros..
Water activities in Druskininkai
Do you want to live in a hotel with a swimming pool during your vacation? Book a room at the Hotel "Violeta", "Grand SPA Lietuva Hotel Druskininkai" or another hotel.
If you are interested in relaxing on the lakes, you can go to Lake Druskonis (clear water + promenade + benches for rest), Grutas (fishing enthusiasts flock here - you can catch carp) or Viunele (this place is popular with those who want to swim).
Photos