Holidays in Mauritius in May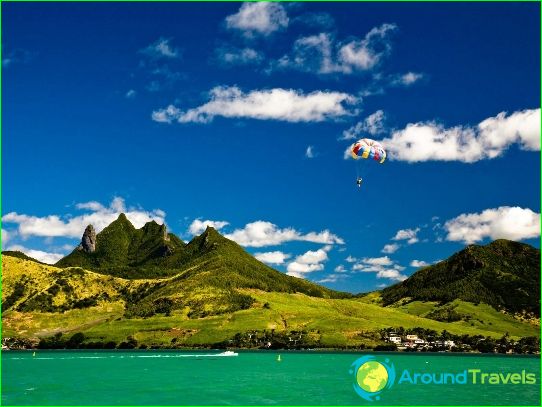 Mauritius is both the name of the republic and the largest island that is part of it. It is located in the southwestern part of the warm Indian Ocean. This undoubtedly contributes to the development of the tourist potential of these territories, a vacation in Mauritius in May is a vivid confirmation of this..
Climate of the island of Mauritius
The tropical maritime climate often surprises tourists, so when choosing a vacation in Mauritius or other islands of the country, you should carefully study the weather forecasts for the trip. True, by May the weather has already calmed down, tropical cyclones, raging from February to March, go to other shores of the planet.
Weather in Mauritius in May
The temperature background during the year in Mauritius changes slightly, winter comes here in May, but only conditionally, the air temperature is on average + 20 ° C. May is considered one of the best months for rest in Mauritius, the air is + 25 ° C, the ocean is slightly colder, which absolutely does not prevent tourists from taking sea baths.
Natural beauty
The volcanic origin of the island of Mauritius has made it a very beautiful place with marvelous landscapes that attract tourists. Plateaus, valleys and plains replace each other. Seamounts of coral reefs stretch along the shores.
Hundreds of rivers and streams rush to the ocean, they carry their waters through rapids and waterfalls. The most beautiful waterfall Tamaren consists of seven steps. Another attraction of the luxury resort of Mauritius, which June tourists can see, are the craters of volcanoes, which pleases, are already extinct.
The plateaus are interesting not in themselves, but because of the funny names of the mountain peaks, invented by some witty comrades. For example, on the Riviere Noir plateau, you can find the Myshka and Koshka mountains, Thumb.
Beach vacation
Despite the relative remoteness of the island, Mauritius is prized by beach lovers. He is the dream of many, sharing glory with the Maldives and Seychelles.
There are comfortable resting places for tourists, wonderful beaches, clear water. The beaches are thoroughly cleaned of coral debris and debris every day. Corals fulfill their important role, they protect the island from strong currents, it is quite safe to swim here. The beaches are sandy, but it is better to use special shoes when swimming so as not to get hurt by sharp corals.
Tranquility and comfort are provided to tourists arriving on the southern coast of Mauritius. Outdoor enthusiasts gather in its northern part.
Mauritius - recreation and tourism

Vacation photos in Mauritius