Mongolian cuisine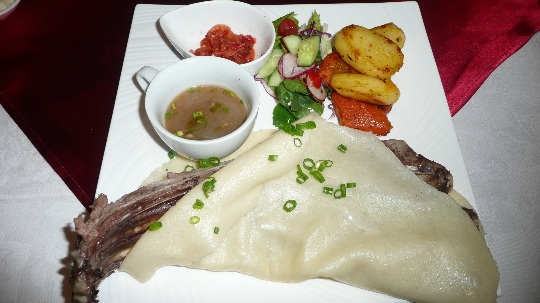 Mongolian cuisine is a dish that is not distinguished by sophistication: they are fatty and nutritious, which is due to the local natural and climatic conditions.
National cuisine of Mongolia
In Mongolia, the most popular product is meat (beef, saiga, yak, horse meat) - it is felled here, boiled in a cauldron, dried, baked in ash between 2 pans. It should be noted that, as a rule, meat is not cooked in order to preserve vitamins in it and it is cooked almost without salt..
Plant-based foods are used little in food preparation and are typically rice and legumes, in particular peas. To add flavor and color, when cooking, the dishes are supplemented with wild berries - bird cherry, mountain ash, rose hips, as well as spices in the form of steppe herbs, cinnamon, star anise, black and Japanese peppers. It is worth noting such Mongolian food as froths made from milk - they are dried and eaten with tea..
Popular dishes of Mongolian cuisine:
"khashur" (large pies fried in oil);
"bakhan" (a dish of a kid, which is baked right in the skin);
"cuiwang" (a dish of steamed noodles, then fried with vegetables and meat);
"harshul" (broth based on boiled lamb and offal with onions and meat, cut into small pieces);
"booze" (steamed manti);
"mychoicebgen" (mass in the form of saran root, boiled in milk, with honey and sugar).
Where to try Mongolian cuisine?
In Mongolian restaurants, the menu is displayed in Mongolian and English, but in any case, the choice of dishes should not cause any difficulties, since the menu of many establishments has a photo of dishes. Advice: do not go to the first restaurant you come across - often in small cafes and restaurants true Mongolian cuisine is presented, which is not suitable for every stomach. It makes sense to take a closer look at the places where foreigners prefer to go - there Mongolian dishes are adapted for Europeans.
In Ulaanbaatar, you can have a snack at "Modern nomads" (the restaurant specializes in Mongolian meat dishes, in addition, there is a children's menu and pleasant musical accompaniment),"Kaiser" (in addition to Mongolian cuisine, the restaurant offers vegetarian and European cuisine) or "Silk Road" (guests are offered here to try Mongolian dishes, if desired, and steaks, as well as admire the view overlooking the Choijin Lama temple-museum).
Cooking courses in Mongolia
As part of a gastronomic tour to Mongolia, you will get acquainted with the life of the steppe nomads - you will be offered to go fishing and try dishes from the catch. And if you wish, you can attend a master class followed by cooking and tasting traditional dishes in one of the restaurants in Ulan Bator.
In Mongolia, you can come to the Nadam Festival (July) to visit horse races and sports, as well as taste Mongolian food that you will find in retail outlets.
Photos