Trip to Mongolia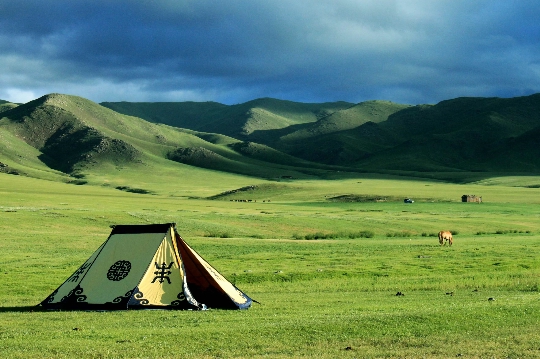 Mongols are very hospitable people. And a trip to Mongolia will be remembered for you with traditional meat dishes, embroidered traditional clothes and the sweet smelling smoke of a calm evening
Public transport
Public transport in the country is represented by trolleybuses and buses. But there is no regular traffic in the cities. Scheduled buses are only available in a few major cities.
The most inexpensive option for getting around the city is the trolleybus, but they are only available in the capital of the country, Ulan Bator, and the city of Darkhan. There are three trolleybus lines in the capital. Be prepared for the fact that trams should be written off for a long time, but they still carry passengers..
The trolleybus attraction of the capital is an unusual hybrid of a trolleybus and a bus - a duobus. This is a joint work of Mongolian and Russian designers. It is noteworthy that this vehicle is equipped with two engines: electric and gasoline.
There are also taxis in the country. Moreover, the tariffs are exactly the same for both official cars and private cabs..
Terribly inconvenient, but nevertheless existing in Mongolia transport - minibuses. Small minibuses, designed to carry no more than 12 passengers, sometimes accommodate 20 people. Route taxis also take care of communication between the villages. The driver sends the car after filling the cabin. They run irregularly, and sometimes you have to wait for a minibus for several days.
Railway transport
The total length of the rails is 2,000 km. There are two main operating lines in the country. The country is connected with Russia by the Choibalsan-Borzya highway.
Air transport
In total, there are 80 airport complexes and 1 helicopter landing site in the country. If necessary, by plane you can get to any region of the country.
The international airport is located 20 kilometers from the capital. It is he who receives and dispatches all international flights..
Water transport
This option for moving around the country is completely unsuitable for tourist purposes, since there is only navigation on Lake Khuvsgla. Orkhon and Selenga - large rivers of the country - are navigable, but practically not used.
Rent a car
Renting a car will not be difficult, but such a trip will turn into a nightmare. After all, the country's roads are in a terrible state. The length of the roads is only 50,000 kilometers. They are divided into state (more or less decent) and regional. Paved trails can only be found near major cities. At the same time, signs and road signs are completely absent here. That is why it is best to rent a car with a driver..
Exotic travel around the country will add horse, camel and yak rides, if you suddenly decide to visit the godforsaken corners of the country.
Photos