The best resorts in Morocco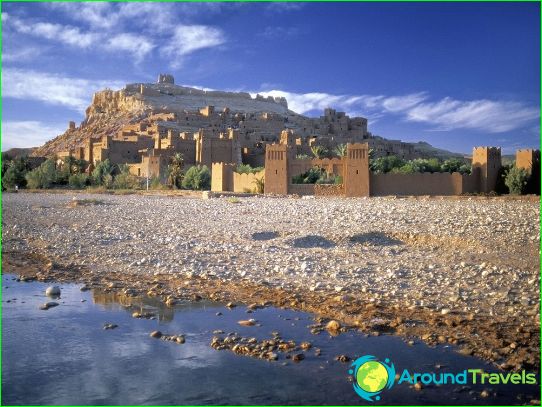 The Kingdom of Morocco, located in the northwest of Africa, has a mild climate, which, combined with an amazing variety of natural landscapes, makes the country very attractive for recreation. The best resorts in Morocco will acquaint their guests with the amazing life of the Berbers or take them for a walk along the ancient streets of Marrakech and even allow them to swim in the turquoise waters of the warm Atlantic Ocean.
Agadir
A small town located on the Atlantic coast is considered a resort «pearl» countries. This amazing place is located in the amazingly beautiful Su Valley, surrounded by the High Atlas Mountains. They, like natural guards, protect the city from the scorching heat of a lifeless desert..
Agadir is the warm and clear waters of the Atlantic, hotels with first-class service and many nightclubs and clubs. It is a city where the sun shines 300 days a year. This is what attracts numerous tourists from all over the world to this Arabic hospitable city..
The beaches of Agadir, surrounded by eucalyptus groves, occupy a ten-kilometer coastal zone. Therefore, there is a place under the rays of the hot Moroccan sun for everyone. Agadir offers its guests entertainment for all tastes. This is sailing, windsurfing, fishing, etc..
Marrakesh
This is the heart of this eastern country. Rest in Marrakech is like a sightseeing trip to the distant past. Medina, preserved in its original form and surrounded by the same ancient walls of many kilometers, has not changed at all over the past centuries. And the walls under the rays of the sun still change their color, becoming either pink or crimson, and guard her peace.
The unique sights of Marrakech will appeal to lovers of antiquity. You should definitely visit the most revered place in the entire city - the mausoleum of Yusuf Ben-Tashfin, who founded this city. The magnificent Golden Apples Mosque got its name from the copper balls located on the minaret.
Casablanca
Casablanca is the Arabic version of American New York and one of the largest economic centers in Morocco. But this is not what attracts numerous tourists. Holidays in Casablanca are a great opportunity to get new experiences. The city's medina of dazzling white is the heart of modern Casablanca. Located nearby «main beauty» city ​​- the Jamma al-Attik mosque, dating back to 1200. But the role of the visiting card still belongs to the Habu quarter, which encircles the royal palace. It is he who becomes the reason for trips to Casablanca, this masterpiece of Arab architecture is so beautiful.
Resort Casablanca is always crowded. Life here does not stop either day or night. Noisy during the day, the city is lit with colorful lights at night, and numerous clubs and discos are waiting for their guests.
Photos of resorts in Morocco