Streets of Warsaw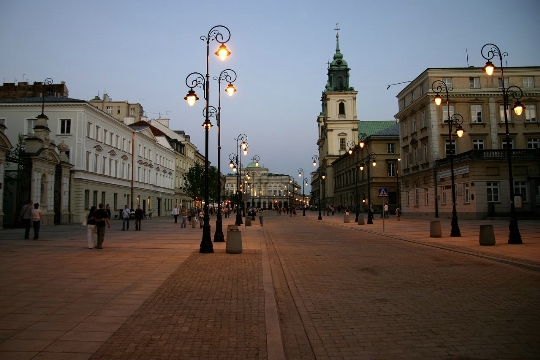 The main city of Poland is Warsaw. It is the business center and capital of the country. The historic streets of Warsaw are located on the high left bank of the Vistula. The river divides the city into two parts, different in size. The western part includes the Old Town and the center. The oldest sights of Warsaw are located here. The most attractive objects for tourists are located in the west of the city..
The old part of the city
Suburbs were gradually formed around the center, from which districts were later formed. The old town consists of straight streets with dense buildings. Houses here have 4-5 floors. Previously, the Castle Square was considered the city center. Today it hosts various city events. The city center was moved to Medowa and Krakowskie Przedmiescie streets. Mansions of aristocrats and palaces were erected on them. The most interesting street in the modern city is Krakowskie Przedmiecie. The old areas were almost completely destroyed during the Second World War and rebuilt later. The huge scale of destruction did not prevent the authorities from completely reviving the ancient streets..
It is better to start exploring the Old Town from the Castle Square. The main object here is the Royal Castle, built in the 12th century. If you walk from the square along Sventoianska Street, you can see the ancient Cathedral of St. John (14th century). The narrowest street in the area, Vaski Danube, leads to the city walls.
Krakowskie Przedmiecie
The main city avenue is the picturesque Krakowskie Przedmiecie. This is a section of the Royal Route, linking old areas with modern ones. It starts near the Castle Square and runs to the south. Various institutions are located on Krakowskie Przedmiescie: Warsaw University, the Academy of Fine Arts, St. Anne's Church, hotels, shops. The avenue is decorated with monuments to Nikolai Copernicus, Prince Poniatovsky, Adam Mitskevich.
District Prague
Prague is considered to be the oldest district of Warsaw. It occupies the right bank of the Vistula River. This area has been mentioned in documents since 1432. Previously, there was a village here, and then a separate city, which had its own charter. In 1791 it became part of Warsaw. The buildings of Prague were not damaged during the war, so it is considered the capital's treasury. This area was inhabited by burghers and artisans, thanks to which a special atmosphere developed in it. Workshops and shops still function here. There are many art salons, theaters, souvenir shops in Prague. The main historical site is the Church of Mary Magdalene. In Prague there are parks Skaryszewski and Prague, as well as a zoo.
Photos of Warsaw streets