How long is the flight from Lisbon to Moscow?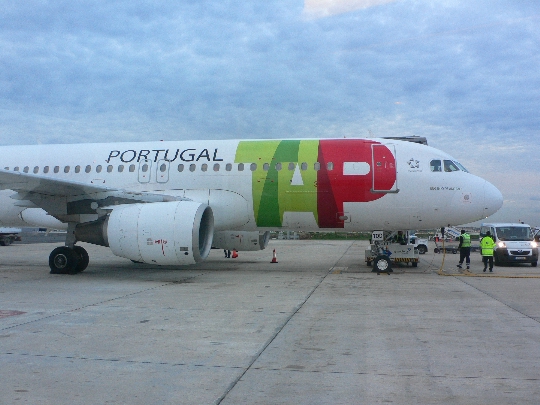 In Lisbon, you managed to stand on the Mirador das Portas do Sol observation deck, see the Castle of St. George, the Se Cathedral, the statue of Christ and the Ajuda Palace, visit the Maritime Museum and the Puppet Museum, the planetarium and Estufa Fria gardens, take a lift "Gloria", have fun in nightclubs "Dock's Club" and "Club de fado", relax in the park of San Pedro de Alcantara? And in the near future you will have a flight to the Russian capital?
How long to fly from Lisbon to Moscow (direct flight)?
You will fly from the capital of Portugal to the Russian capital in more than 5 hours (they are separated by 3900 km). On aircraft "TapAirPortugal"you will be able to fly to Moscow in 5.5 hours, and "Transaero" - in 5 hours 50 minutes.
Anyone interested in purchasing cheap air tickets should note that attractively priced tickets can be bought in August, April and September (7,900-10,500 rubles).
Flight Lisbon-Moscow with transfers
Changes on the way to Moscow can be made in London, Madrid, Chisinau, Brussels, Hamburg, as a result of which the journey can take from 7 to 23 hours. Transfers in Zurich and Vantaa ("Finnair") will extend your air trip by 19.5 hours, in Madrid ("Air Europa") - for 7.5 hours, in Paris ("Air France") - for 7 hours, in Venice ("Alitalia") - at 17.5 hours, in Brussels ("Brussels Airlines") - at 16.5 hours, in Munich ("Lufthansa") - at 7 o'clock, in London ("British airways") - at 17 o'clock, in Amsterdam ("KLM") - at 21:00 (it will take 15 hours to wait for the 2nd flight).
Which airline to choose?
Airbus A 320, Embraer ERJ 145, Boeing 737 Passenger, Fokker 100 and other airliners of the following air carriers fly in this direction: "Tap Air Portugal"; "S7"; "Air Europa"; "KLM"; "GTK Russia".
Check-in for the Lisbon-Moscow flight will be offered to you at the Lisbon Portela airport (LIS), located within the city, in the Portela area (buses No. 44, 22, 5, 45, 8 go here). The airport provides duty-free shops at the disposal of travelers, "Chocolate Lounge" (here you can buy chocolate and other sweets), "Gourmet" (here they sell Portuguese wines), souvenir kiosks and shops where you can get cheese and sausages, a playground and entertainment machines, rooms for mothers and children, cafeterias and restaurants, a post office, ATMs, a medical center.
What to do with yourself on the plane?
During the flight, you should decide who to give souvenirs from Lisbon in the form of cork products (umbrellas, hats, belts, bags), Portuguese soap brands "Ach Brito" and "Claus porto", gold jewelry, embroidery, Portuguese wines and jamon, plates, tureens and other products made of porcelain and ceramics, so as not to deprive the attention of your friends and relatives.
Photos