Lisbon prices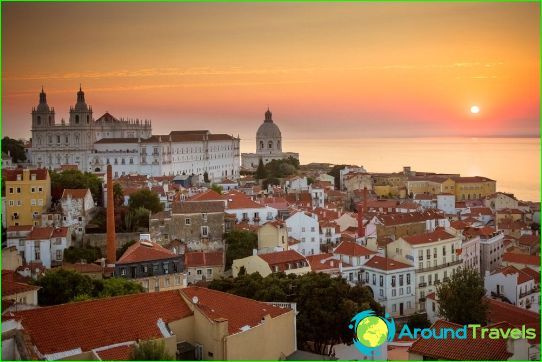 Lisbon is considered a great place to travel and relax. It is one of the most popular cities in the world. Portugal is a fairly cheap country by European standards. Prices in Lisbon are not very high when compared with prices in other European cities.
Choice of housing
Hotels and hostels in Lisbon are available in all seasons. The tourist flow increases dramatically during the summer months. Therefore, at this time, good and inexpensive hotel rooms are occupied. Hotels in the city offer comfortable accommodation at different prices. You can rent a room after arrival. But if you want to visit Lisbon for the Christmas holidays, then book your seat in advance.
Hostels are the best option for many travelers. You can rent a private room in a 1 * hostel for 9-15 euros per night. Hostels 5 * offer rooms for 65 - 340 euros per day. If a tourist stays in youth hostels or campgrounds and prepares food on his own, then 30 euros per day is enough for him.
Food
Food in Lisbon is cheap compared to other European capitals. The city's restaurants serve local cuisine and good wines at an affordable price. High prices are observed in restaurants with live music. If you cook yourself, then food costs no more than 300 euros per month. In Lisbon supermarkets, 1 kg of pork costs 6-7 euros, 1 kg of sausage - 10 euros. Low prices are fixed for alcoholic beverages: a bottle of wine - 5 euros, a can of beer - 0.5 euros.
Transport services in Lisbon
Public transport fares are determined by the number of zones. A tram or bus ticket costs 1.4 euros. A ride through one zone in the metro costs 0.8 euros. For two zones you will have to pay 1.15 euros. You can purchase a ticket for a day, which gives you the right to make an unlimited number of trips. Taxi services are paid by the meter. For 1 km they charge 0.4 euros. To get to the city center from the airport, you need to spend 10 euros.
Excursions in Lisbon
The weather is almost always good in this city. It has sunny warm summers and mild winters. Therefore, you can come to rest in Lisbon in any season. Many attractions can be viewed free of charge. Entrance fees to museums are cheap. Tourists are advised to take tram number 28, the route of which passes through the main attractions of the city..
The Lisbon sightseeing bus tour lasts 4 hours and costs € 190 per person. A sightseeing group program for 90 minutes will cost 9 euros. You can use the services of a guide for 60 euros for 2 hours (without vehicles).
Photos