Rest in Tyumen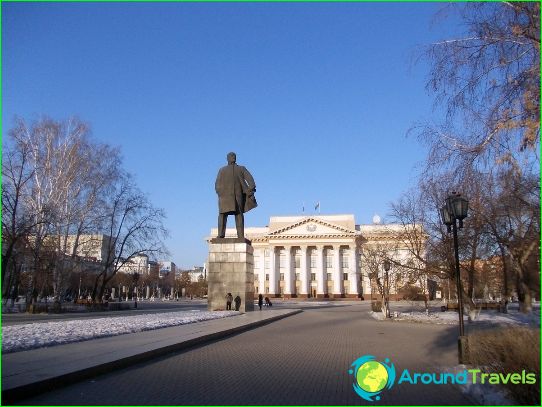 Rest in Tyumen is popular among fans of culture and history, active pastime, healthy lifestyle.
The main types of recreation in Tyumen
Excursion: excursion activities include a visit to the museum "House Masharov", The Museum of Nature, the Church of the Savior, the Holy Trinity Monastery, a walk along Republic Street, the Siberian Cats Square (there are original gilded figurines of cats everywhere) and the Historical Square. And, of course, do not forget to take a photo against the background of the Bridge of Lovers.
Active: tourists are advised to look into the center "Voroninsky hills" - here everyone can go snowboarding, skiing, skating. Tyumen invites its active guests to fly a paraglider or a hot air balloon, ride a bike in the Gagarin forest park (in winter you can ski here), come off at incendiary parties in nightclubs "Pyramid", "Hollywood", "MadamedePompadour".
Curative: you can improve your health in a sanatorium "Upper Forest" (you can swim in the thermal spring) or "Small Taraskul" (famous for procedures based on healing mud). In general, balneotherapy and hydrotherapy (pearl, radon, hydrogen sulfide, carbon dioxide, herbal, whirlpool, mud baths, hydromassage), phototherapy, reflexotherapy, color therapy are used for treatment in Tyumen sanatoriums..
Beach: if you wish, you can relax on the municipal beaches on the ponds Yuzhny, Voinovskiy, Severny or on private beaches, for example, near Lake Lipovoe (it has a swimming area for children, a rescue post, a cafe). And for guests who went to the beach of the recreation center "Upper Forest" - cafe, children's area with a mini-water park, trampolines, attractions.
Prices for tours to Tyumen
For recreation in Tyumen it is worth highlighting the summer months. In general, vouchers to this town are inexpensive, but they increase in the summer (by 20-40%), especially in July, when the City Day is held here (it is accompanied by a concert program, fireworks and carnivals). In order to save money, you can come to Tyumen in spring and autumn, when travel agencies offer tours here at very attractive prices..
On a note!
If you do not like hot summer, then tours to Tyumen are what you need. The right choice will be made by those tourists who go here in winter - conditions for skiing and winter entertainment will be created for them. You can get to know the city and get to any area you are interested in by bus or trolleybus (if you decide to use the services of a taxi, call it by phone).
Leaving Tyumen, as a souvenir of the rest in this city, you can grab bone carving products made from the fossil remains of animals that once lived in Western Siberia - mammoth, broad-browed elk, woolly rhinoceros; souvenirs with a drop of oil; bead jewelery; textiles with elaborate embroidery; handmade carpets; wood crafts.
Photos of rest in Tyumen