Observation decks of Tyumen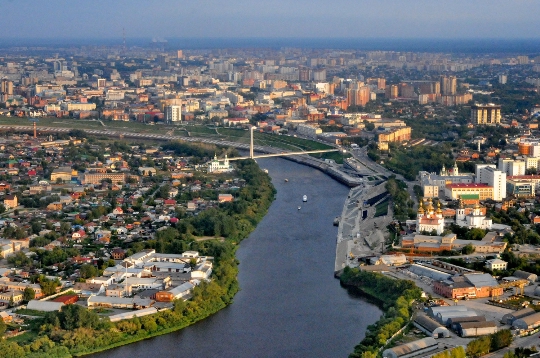 Tourists who have climbed the observation platforms of Tyumen will be able to admire the Holy Trinity Monastery, the Savior Church, the Averkiev house (decorated with intricate balconies) and other objects, in particular, buildings of the 19th century (Republic Street).
"Lovers' bridge"
From this cable-stayed bridge, vacationers admire a magnificent view of the historical part of Tyumen (on the one hand, you can see wooden buildings from the beginning of the development of Siberia, and on the other - modern stone buildings). It is worth noting that there is a clock here, and in addition, the bridge is a place for meetings and walks (in the evening, the lights turn on here).
Address: Beregovaya street, 83.
Embankment Tours
Its unique feature is the presence of 4 tiers (total height - 24 m; the levels are connected by means of ramps and stairs; flowerbeds and green spaces, a fountain-waterfall, bas-reliefs and sculptures are used as decoration), and on the 3rd and 4th there are observation platforms that allow you to admire water surface. In addition, people come to the Embankment for cycling and morning jogging..
Address: Republic Street
Laser tag arena "Laser force"
In addition to the labyrinth, with an area of ​​more than 250 square meters, it has an observation deck, about 3 m high. Address: SEC "Panama" (3rd floor), 2nd Lugovaya, 30.
Panoramic restaurant "7 sky"
A panoramic elevator delivers Russian and European cuisine to the restaurant (open from noon to 02:00), revealing the beauty of Tyumen from a bird's eye view (hence, many visitors prefer to admire the solemn processions and fireworks held as part of city holidays). In addition, the institution invites you to themed parties - guests will find an interesting program and menu that matches the specifics of the event..
How to get there? You need to get to the hotel by public transport "Tour" (the restaurant is located on the top floor), located along Melnikaite Street, 103a (the Tyumen Technopark is located 20 meters from the hotel).
Tyumen City Garden
Soon, some of the best attractions should appear here, which will allow guests to enjoy the city's beauty from above - they will bear the following names: "Chain carousel" (height - 42 m); "Ferris wheel" (height - 60 m).
How to get there? You should get to the stop "Tsvetnoy Boulevard" by minibuses No. 71, 66, 12, 66, 82 or buses No. 17, 25, 14, 1, 11, 54, 48, 30 (address: Tsvetnoy Boulevard).
Fire Tower "White Tower"
It is worth noting that in the 19th century the fire tower "White Tower" (address: Osipenko Street, 35) was used as an observation deck (firefighters watched from a height if there was smoke or fire somewhere), and in the near future they plan to restore the building and make a viewing platform from which residents and guests of Tyumen will be able admire the beauty of Tyumen.
Photos