What to do in Saratov?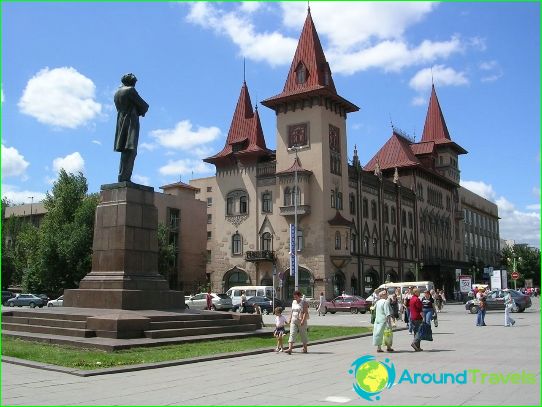 Saratov is a modern industrial port city with a developed infrastructure, amazing nature, interesting cultural monuments and attractions.
What to do in Saratov?
Admire the Holy Trinity Cathedral;
Visit the museum-estate of Chernyshevsky;
Take a parachute jump to see Saratov, the surrounding fields and forests from a bird's eye view (there are several flying clubs in the city);
Rent a boat or yacht to travel along the Volga;
Take a photo against the backdrop of one of the main attractions of Saratov - the Saratov-Engels bridge;
Visit the lemonaria - a nursery where lemons are grown.
What to do in Saratov?
To get to know Saratov better, it is advisable to go for a walk to the city center.
On the main street - Kirov Avenue - you will come across various shops, fashionable boutiques, restaurants and other entertainment venues. When you reach the end of the avenue, you will see Lipki Park, which you should definitely go to - you will surely be delighted by the fountains and flower beds located here, which will set you up for a romantic and serene mood..
Active tourists can have an unforgettable time at the paintball club. The organizers will help you feel like a cowboy, police officer or special forces. This military sports game will help you spend time actively in the fresh air, teach you how to work in a team, navigate the terrain and quickly make decisions in extreme situations.
It is no less interesting to spend time in the karting center, where, if you wish, you can take part in real group tournaments..
If you come to Saratov in winter, be sure to go to local camp sites - here you can rent sledges, skis, snowmobiles, play billiards, table tennis, relax in a bar and a cinema. In addition, if you wish, you can be provided with services for organizing winter fishing..
Well, in the summer it is worth going to the Kumysnaya Dolina Park to organize a picnic there. The park has wooden gazebos and parking areas (you can relax here completely free of charge without prior orders).
Those who are vacationing in Saratov with children can go to the Theater of the Young Spectator and the Saratov Circus named after the Nikitin brothers. Sports fans should visit the stadium "Spartacus" - city and regional football matches, competitions in running, long and high jump, and other sports are held here.
Arriving in Saratov, you will not have a question where to go in this city: parks, museums, exhibitions and other interesting places will be waiting for you every day.
Photos of where you can go in Saratov