Rest in Kostroma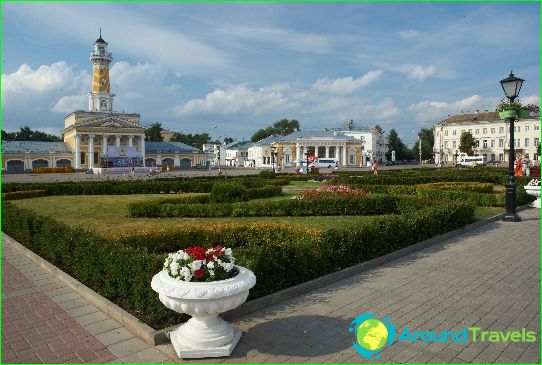 Holidays in Kostroma are chosen by travelers who want to spend time actively, as well as admire Russian nature, unique architectural and historical monuments.
The main types of recreation in Kostroma
Excursion: on one of the excursions you will see the ensemble of the Trading Rows (18-19 centuries), St. "Assembly of the nobility" and the Museum of Jewelry. In addition, trips to the unique relict forest and Sumarokovskaya moose farm are organized for those who wish. In addition to bus and walking tours, you can take a river walk along the Volga and see the sights of the city while on board an excursion boat.
Active: Kostroma has prepared a lot of interesting things for tourists - here you can jump with a parachute, go go-karting, go fishing and hunting, admire picturesque views on horseback riding, cycling or hiking, have fun at incendiary parties in the most expensive and stylish nightclub "ЖiR-Project", visit the mall "Mega World" (at guests' service - various shops and an ice rink).
Family: married couples with children should visit the entertainment and exhibition complex "Terem of the Snow Maiden": Snegurochka, cat Bayun and brownies will lead them on a tour of the courtyard and Terem, tell interesting stories from their lives, attract guests to dancing and games. In addition, Snegurochka will invite its guests to visit the Ice Room - little guests can taste a cocktail made from melt water and snow, and adults - Russian drinks from ice glasses.
Wellness: vacationers in sanatoriums and boarding houses of the Kostroma region are treated with the help of mineral waters, healing mud and a favorable climate.
Prices for tours to Kostroma
The ideal time to travel to Kostroma is May-September. But it is worth considering that the most expensive vouchers to this city are sold in June-August. You can save 20-25% by purchasing a ticket to Kostroma in September-October, and by coming here in the low season (November-March), you can save 30-50%.
On a note!
Anyone who plans to go on various excursions cannot do without a headdress, comfortable clothes and shoes (it is advisable to put all this in a suitcase before the trip).
Visitors to Kostroma should definitely look into restaurants of national cuisine, having tasted pancakes with red caviar, borscht with thick sour cream, kulebyaki and pies.
As a souvenir of your vacation in Kostroma, it is worth bringing products made from natural fabrics (shirts, napkins, tablecloths), boxes for storing milk, honey or sour cream, baskets for berries, dishes, boxes, Peter's clay toy, cheese ("Kostroma", "Susaninsky").
Photos of rest in Kostroma