Children's camps in Chuvashia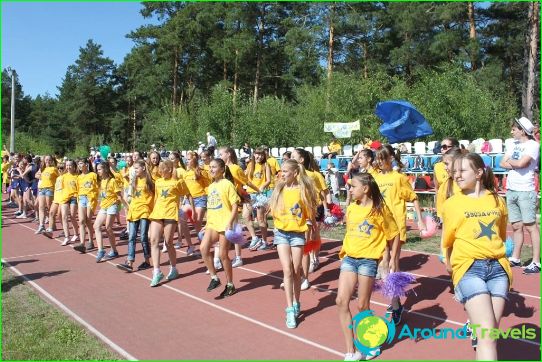 Chuvashia is located in the Volga-Vyatka region - in the center of the European part of the country. It occupies a small area, but the population density is quite high there. From time immemorial, Slavic, Finno-Ugric and Turkic peoples lived on the Chuvash lands. Despite the multinational composition, the political situation remains stable at all times. Chuvashia occupies an advantageous geographical position. It is located in the middle reaches of the great Volga River. The natural environment is unique here. The sources of water are rivers such as the Volga, Tsivil and Sura. There are many lakes in the republic, which are scattered throughout its territory..
The advantage of rest in the Chuvash Republic
Children's camps in Chuvashia provide an opportunity to relax among the purest nature. The wealth of the region is considered to be woodlands: mixed forests, oak forests, pine forests. Forests cover mainly the lands along the Sura River and in the Trans-Volga region. The fauna of reservoirs is distinguished by an abundance of carp fish, and the fauna of the forests is represented by moose, wild boars, hares, foxes and other animals. The republic is located in a zone of temperate continental climate. It is attractive to tourists due to its favorable geographical location, cultural, historical and recreational potential..
Chuvashia is a wonderful part of the Volga region, where ancient monuments are combined with modern infrastructure. Experts believe that the main advantage of the Chuvash Republic is that it is conveniently located on the Volga River, which flows through green and picturesque areas. This plays an important role in the development of tourism. A large number of health camps, sanatoriums and recreation centers are located on the territory of Chuvashia. Here you can not only improve your health, but also have a good rest. The Chuvash region is famous for its rich history and distinctive culture. The names of many famous people are associated with it. Chuvashia has tourist attractions, natural clean zones. Tourists are interested in the culture of the indigenous population, its national rituals and traditions.
Features of children's health camps
Chuvashia offers a varied vacation for children. Summer camps are open at schools with a day stay. Outside the city there are health, sports and specialized camps. Recreational children's camps in Chuvashia use the rich natural potential of the region to improve the health of schoolchildren. Sanatorium treatment includes various procedures: massage, swimming pool, therapeutic baths, etc. In the camps, children are offered a full five meals a day and a full range of entertainment services.
Photos of children's camps in Chuvashia