Children's camps in Izhevsk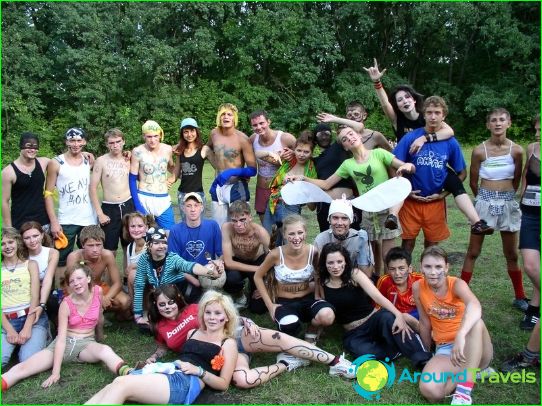 Izhevsk is the center of Udmurtia, the largest city in the country. Wellness campaigns for children are held here at a high level. Activities include the rest of schoolchildren in children's sanatoriums and country camps.
What children's camps are there in Izhevsk
During the holidays in the Udmurt Republic, there are at least 650 health institutions for children. More than 11 of them are country camps. Many camps function at dispensaries and sanatoriums in Izhevsk. There are also day camps in the city. During the holidays, work and rest camps and specialized shifts are opened for schoolchildren. The guys go on tourist expeditions and hikes.
Children's camps in Izhevsk occupy landscaped areas in ecologically clean zones. Institutions located in the Zavyalovsky district of the republic have good recommendations. Recreation programs for children include excursions, entertainment, hiking, sports events, master classes in creative studios, etc. The Republic of Udmurtia is located between the Vyatka and Kama rivers. It has rich natural resources and is famous for its beautiful landscapes. The climate here is temperate continental, which leads to warm summers and severe winters. Therefore, rest in Izhevsk can be very diverse. In the camps, children are offered games and activities according to the season. Alpine skiing, ice climbing, snowboarding are possible in winter. Summer sports are rock climbing, orienteering, hiking, cycling, etc..
Where are the best camps
The amazing nature of this region surprises with an abundance of deciduous and coniferous forests. Children's camps in Izhevsk occupy landscaped areas surrounded by trees. Birches, spruces, aspens, oaks, etc. grow here. Numerous health centers and sanatoriums of the republic are located among ecologically clean nature. There are a lot of mineral drinking springs in Udmurtia. Many sanatoriums use healing waters as an effective means of healing. Some children's sanatoriums and camps offer health cures, as they are located close to mineral and mud springs..
While resting in the camp, children experience the complex influence of many factors, among which it is worth noting the cleanest air and mineral waters. During the winter holidays for a child, you can buy a ticket to the camp at the sports and tourist center. For example, in the center «Nechkino», which has an excellently developed infrastructure. In such an institution, young visitors learn to ski. Active rest among beautiful nature is the best option for a vacation.
Photos of children's camps in Izhevsk