Children's camps in Kaluga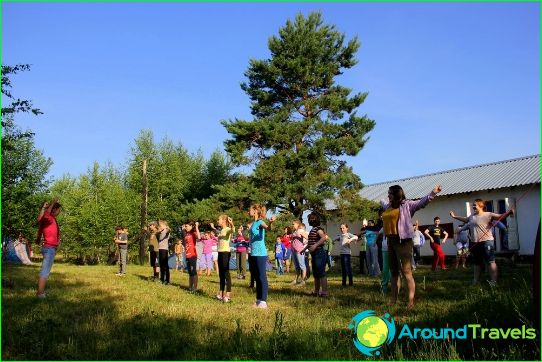 Camp is one of the best types of recreation for children. It provides the student with educational, wellness and fun leisure time during the holidays. Popular children's camps in Kaluga offer exciting shifts. The programs are drawn up by experienced specialists, so the guys do not have to get bored.
Kaluga is located in Central Russia, on the banks of the Oka. The climate here is temperate continental with rainy and warm summers and snowy winters. Such conditions make it possible to organize an exciting children's holiday in any season..
Advantages of children's camps
The child can spend time with peers. It is located in the fresh air, amidst pure nature. The organizers hold active entertainment, sports games and educational events. This has a beneficial effect on the physical and mental health of schoolchildren. The time free from active activities is filled with educational excursions. The professional staff can organize fun walks to local attractions. There are a number of interesting historical sites in Kaluga. These include architectural monuments: ancient buildings, old houses, churches, bell towers, etc..
During the rest, the child develops the qualities of a leader and team spirit. Depending on the specifics of the camp, campers improve certain skills: knowledge of a foreign language, sports skills, etc..
What camps are there in Kaluga
You should book a ticket to the Kaluga camp in advance, as there may be no vacancies at the beginning of the season. It is necessary to choose an institution taking into account the needs of the student. Rest should contribute to its development. Children's camps in Kaluga are active recreation facilities, sports and health camps. Their main goal is the health improvement and physical development of children. Children can visit the pool and gyms. Instructors and counselors hold competitions and sports games for them. There is a category of camps that teach children to live among nature. These are campgrounds in which schoolchildren set up tents, light bonfires and navigate the terrain..
Linguistic camps invite those who seek to improve their knowledge in the field of foreign languages. The children learn new vocabulary, receive up-to-date knowledge and communicate with native speakers. To consolidate the material covered in the camps, there are various programs, during which special games are used. To promote the creative development of the child, he can be sent to a specialized camp. The creative institution has hobby groups, creative studios, theater workshops, etc..
Photos of children's camps in Kaluga