Children's camps in Kursk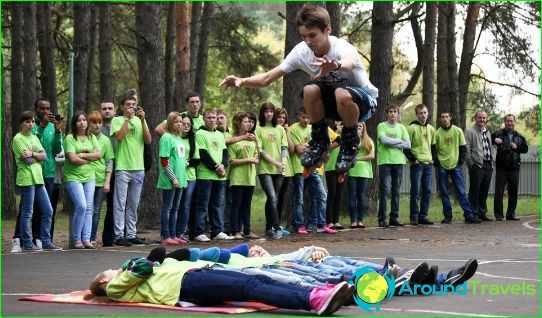 The Kursk region is actively developing the tourism and recreation sector. By the beginning of summer holidays, school and health camps begin to work on the territory of Kursk. Outside the city limits there are excellent country camps and children's sanatoriums. Kursk is the administrative center of the Kursk region. It is included in the Central Federal District and borders on such regions as Oryol, Bryansk, Voronezh, Lipetsk, Belgorod.
What kind of rest is possible for children
During the holidays, Kursk schoolchildren can relax in local camps or in institutions from nearby regions. Children's camps in Kursk offer active recreation: excursions, multi-day hikes, sports activities. The region does not have significant water resources, although there is a rather dense river network. The rivers in the eastern part of the Kursk region belong to the Don basin, while the rivers in the central and western parts belong to the Dnieper basin. Large rivers are deep and wide here. There are 870 lakes and more than 780 artificial reservoirs in the region (reservoirs and ponds).
The territory of Kursk is ruled by a temperate continental climate. It is warm in the city in summer, and moderately cold in winter. A characteristic feature of the Kursk region is a large number of cloudy days a year. Camps and sanatoriums are located in picturesque areas: in forested areas, along the shores of lakes and rivers.
Children's camps in Kursk organize recreation according to unique programs. They offer sightseeing trips and excursions. Tourism in the region is very interesting. This area amazes vacationers with its beautiful nature and original architectural structures. Kursk attracts with cultural sights and architectural monuments. There are many historical sites in the region dedicated to the Battle of the Kursk Bulge. The buildings of the 17-18 centuries have been preserved in the city..
Infrastructure of children's camps
Each institution has a guarded, well-landscaped and landscaped area. The camp has places for outdoor activities and walks, a summer stage and play areas. Many health centers accept children all year round. Specialized and specialized shifts are held in the camps. One-story houses or buildings are designed to accommodate children. Meals take place in the dining room. Children receive a varied and healthy diet. The menu includes fish and meat dishes, cereals, fruits, salads, pastries. In the Kursk camp, the child will never get bored. Every day, competitions, competitions, concerts, holidays and festivals are held this way..
Photos of children's camps in Kursk