Children's camps in Lipetsk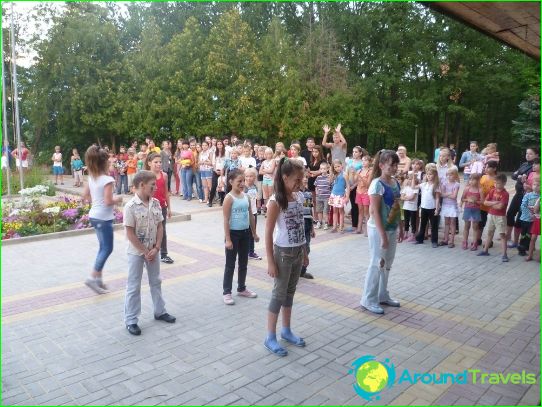 In recent years, tourism and children's recreation in Lipetsk has been developing rapidly. The administration is developing programs to attract tourists to local attractions. Today on the territory of the region there are more than 18 health-improving country camps. There are also good sanatoriums for children.
Features of rest in Lipetsk
Lipetsk Region is part of the Central Federal District. It is located on the border of the Oka-Don lowland and the Central Russian Upland. The main centers that have gained popularity among tourists are Zadonsk and Yelets. There are recreation centers, country camps and boarding houses. Near Lipetsk, there are also excellent health facilities for adults and children. Among the children's sanatoriums in the region, organizations have a good reputation «Dream» and «Sunrise».
Children's camps in Lipetsk are seasonal institutions. They only work during the summer holidays. At any time of the year, only a health camp operates «Prometheus». Children, who have a rest in the Lipetsk region, take part in interesting excursions. There are a lot of attractions and objects worth exploring. More than 842 monuments of history, archeology and architecture are under state protection. Children travel to Pushkin and Peter's places. Excursions to the reserve are very informative «Galichya Mountain», visits to monasteries, cathedrals and churches.
What attracts Lipetsk
The history of this region is associated with the names of many famous people: Pushkin, Prishvin, Bunin, etc. The historical center of the city is Cathedral Square and Cathedral Mountain. A city was once founded in these places. There is the Cathedral of Christ the Nativity Cathedral, which today is considered the main temple of Lipetsk. In the center there are beautiful architectural sights adjacent to the houses of Stalin's construction.
Children's camps in Lipetsk are located in landscaped areas, far from noisy highways and businesses. Each health institution offers its own recreation program for children. If the camp is located in a park area, then the children have a great opportunity to enjoy the wonderful nature. The camp usually has a swimming pool, a gym and a sports hall, a library, etc. Near Lipetsk there are unusual sanatorium-type camps that invite children from three years old together with their parents. Such institutions usually operate at any time of the year. Various events are held for children: contests, concerts, evenings, quizzes. Sports sections and clubs are open for them. In addition to treatment in sanatoriums, children can do what they love by attending master classes.
Photos of children's camps in Lipetsk