Children's camps in Zvenigorod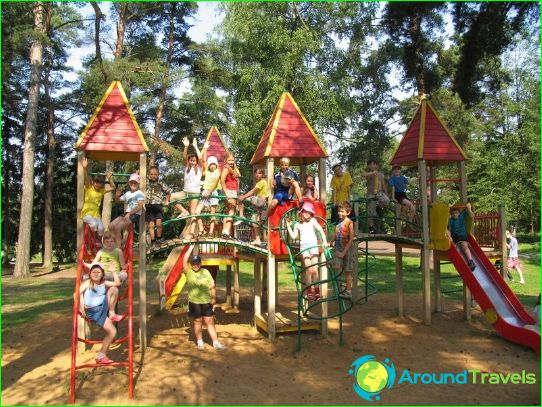 On vacation, many people go to the south, to the sea, not caring that the body gets a shake-up due to a sharp change in climatic conditions. If a person lives in an area with a temperate climate, then it is not recommended for him to go to the tropics for several days. Such a trip will turn into stress for the body. It is better to make a visit to another region if you can stay there for more than 2 weeks. In this case, the body adapts and rests. In all other cases, resting in moderate lane conditions is the best choice..
Zvenigorod is the best option for children's recreation
For residents of the Moscow region, there is always a good choice among boarding houses and sanatoriums. There are many recreation centers and children's camps in the Moscow region. All these institutions allow adults and children to have a great time. Children's camps in Zvenigorod are very popular. The service and comfort there pleasantly surprise, and the prices are very pleasing. Parents can always find a good option for accommodation conditions, cost and a package of additional services.
Zvenigorod provides a lot of opportunities for restoring health in boarding houses, rest homes and health camps of a sanatorium type. This city is considered one of the most beautiful in the Moscow region. It is rich in sights and cultural monuments. Rest in Zvenigorod will be useful for schoolchildren, both for health promotion and for broadening their horizons. Children's camps of a sanatorium type offer a whole range of medical services and preventive measures to restore health. Zvenigorod rightfully received the name of Russian Switzerland. The unique conditions of the climatic-balneological region are a natural healing factor. There are springs of magnesium-calcium sulphate water, which is used for treatment. Sodium chloride solution is used for healing baths. In the vicinity of the city there are natural outlets of hydrocarbonate waters and medicinal peat mud.
How to spend your holidays in Zvenigorod
Rest here is interesting in summer and winter. The city is 50 km away from the Russian capital. It is surrounded by beautiful and clean nature, as it is located away from industrial enterprises. Children's camps in Zvenigorod include various excursions and walks around the city in the entertainment program. Historical sights can be seen on its streets. The most striking buildings are the Church of the Ascension of the Lord, the Cathedral of the Assumption of the Blessed Virgin Mary, the Church of Alexander Nevsky, merchant estates and monasteries. There are a lot of old buildings in Zvenigorod that have survived thanks to the efforts of local residents..
Photos of children's camps in Zvenigorod