Holidays in Slovakia in July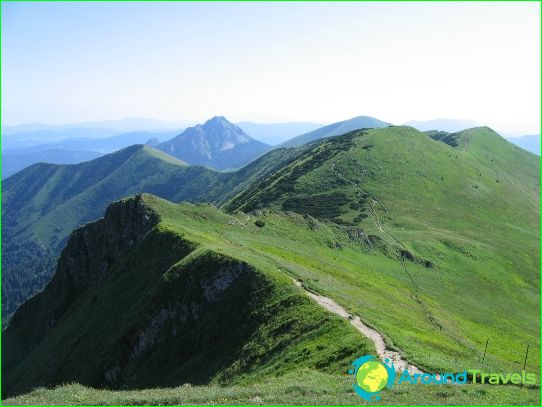 This small European state is still in the shadow of its distant relative and friend of the Czech Republic, which has already managed to put tourism on a commercial track. However, Slovakia has great potential, it can offer tourists not only beautiful mountain landscapes and appropriate winter activities..
Holidays in Slovakia in July will delight tourists seeking a relatively comfortable vacation, good infrastructure, similar climatic and weather conditions. There are more than a thousand mineral and thermal springs here, so you can combine your vacation with treatment and general health improvement. Well, for fans of the history of the Middle Ages, the country will surprise with a huge number of castles and ancient fortresses.
Weather in Slovakia
A trip to this country in July is suitable for people who do not like sudden changes in climate, hot weather, and high humidity. For some, the average temperature in July is + 23 ºC will seem cool, but someone will consider it optimal. The rest will appeal to people aged with certain diseases. The absence of hot temperatures has a beneficial effect on children's organisms, therefore, parents with children are also one of the largest categories of vacationers..
Slovakia has no access to the sea, so tourists who are accustomed to relaxing on the coast choose places located near the picturesque lakes Shirava, Rusovce, Golden Sands. Water in reservoirs warms up to a very comfortable temperature + 23 ºWITH.
Craft fair
The middle of the Slovak summer will delight guests of the country with an amazing exhibition, where the best masters from Eastern Europe are ready to demonstrate traditional crafts. At the fair in the town of Kezmarok, you can find wickerwork, lace, glass and ceramic figurines, musical instruments. Favorite works of folk art will soon take places in tourists' suitcases.
Colorful processions of local residents dressed in national clothes, concert performances and national cuisine help city guests to get closer to the culture and history of Slovakia.
Journey into history
While on vacation in Slovakia in the summer, many tourists choose excursion routes that allow them to get acquainted with the rich past of this country..
Castle «Red hill» Is one of the most popular objects of attention of guests of Slovakia. It is in good condition, and, in fact, consists of three fortresses, erected one after another, and then they were connected by a defensive wall with bastions. Now there is a museum that introduces tourists to the architecture and culture of different centuries and directions.
Pictures of holidays in Slovakia