Swiss culture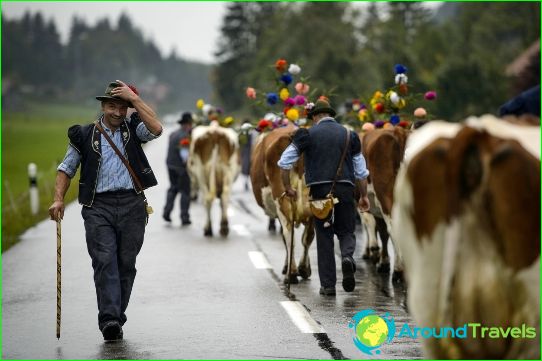 The peculiarity of the Swiss Confederation is that representatives of various nationalities coexist in this European state, and there are as many as three official languages. Both the Germans and the French, and Italians, and immigrants from other countries brought their own, unique features to the culture of Switzerland, which allowed the formation of unique customs and habits..
On the roof of Europe
One of the main attractions of little Switzerland are huge mountains. The Alps occupy most of the country's territory, and historians have discovered that the first people inhabited the foothills here already in the Neolithic era. The prehistoric pile houses in which they lived are one of the UNESCO-protected sites in Switzerland. The oldest settlements are located near Zurich. Maylena and Zug.
Another historically important site is located in the town of Ticino. The Bellinzona castle complex was built on rocky peaks in the 4th century on the site of the ancient Roman fortifications of the 1st century BC. The fortresses have repeatedly withstood the sieges of the enemy and passed from hand to hand, and today the exposition of the Bellinzona Museum tells about the culture of Switzerland and its historical past..
The legacy of the monks
The culture of Switzerland is also its many monasteries, built in cities and towns and villages. The mountainous landscape makes the landscapes of Switzerland especially attractive, while the old walls of the monasteries look like they have descended from the painting of the famous artist.
The Monastery of St. John in the village of Graubünden is included in the UNESCO World Heritage List as a perfectly preserved site, built in the 8th century by order of Charlemagne. The building has preserved frescoes of the 11th century, executed on various biblical themes..
Festivals and fairs
In Switzerland, there is a certain cult of tourists who come to go skiing, wander through the old streets, gaze at the famous Swiss banks and taste the most delicious chocolate in the world. For the amusement of guests and their own entertainment, residents organize festivals and fairs, where you can get to know the culture of Switzerland better. The most famous and popular holidays:
February Balloon Festival in Crans-Montana.
Basel Carnival in March.
April farewell to winter in Zurich.
Spring Daffodil Festival in Montreux.
"Cheese test" in September in Hasliberg.
Photos