Holidays in Switzerland in August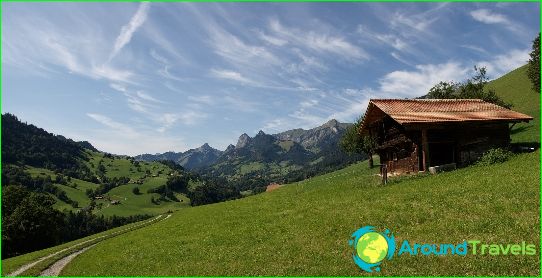 Summer is reaching the home stretch, but this has no effect on the number of tourists vacationing in Switzerland. Moreover, the weather conditions are favorable, local markets are filled with delicious gifts of the new harvest, the emerald colors of the surrounding forests begin to mix with the juicy tones of golden autumn.
A vacation in Switzerland in August is a great opportunity to restore health and gain strength for the next working year. At this time, you can still relax on the lakes and even swim, go for walks in the surroundings or get acquainted with the rich past of the country..
Weather in August
The temperature of the last month of summer warms not only the soul, but also the body, on the Alpine lakes it is quite acceptable for relaxation +22 ºC, the water warms up to +19 ºC (Lake Geneva) and +23 ºC (Zurich), so you can safely continue the swimming season.
There are many more sunny days than cloudy ones, and rains are extremely rare. That is why most tourists prefer to spend time in nature rather than in noisy cities..
Leisure
The Swiss Alps give the palm to tourists who love active pastime. Local health resorts and hotels are ready to provide the necessary equipment or equipment, instruct or accompany on the way.
Mountain peaks are waiting for their conquerors, lovers of mountaineering and rock climbing, horseback riding will return to the recent past, and rafting will help to cheer up on steep river turns and rapids.
Rest on Lehman
Lake Geneva (its second name is Leman) - ranks first in terms of area in Europe. The purest water and rare daring bathers, but August is the month when you can safely dive. There are beaches along the banks, some of them are grassy, ​​the rest are platforms equipped for sun and air baths..
Rest by the water can be combined with health improvement, since in the vicinity of the lake there are medical institutions very famous in Europe, offering a fairly wide range of modern medical and health-improving methods..
Chillon Castle
In fact, the eminent master of words did not own real estate in Switzerland, but, having visited Lake Geneva 200 years ago, was inspired by what he saw a beautiful and gloomy castle, and later wrote a poem «Prisoner of Chillon». Byron even left his autograph, which is now one of the important attractions of this historical monument..
Chillon Castle appears, in addition to Byron's poem, in the novels of Dumas, Hugo and Shelley. And today every tourist can visit this unique architectural complex, feel like an owner, a prisoner, or a hero of a novel..
Vacation photos in Switzerland