Population of Thailand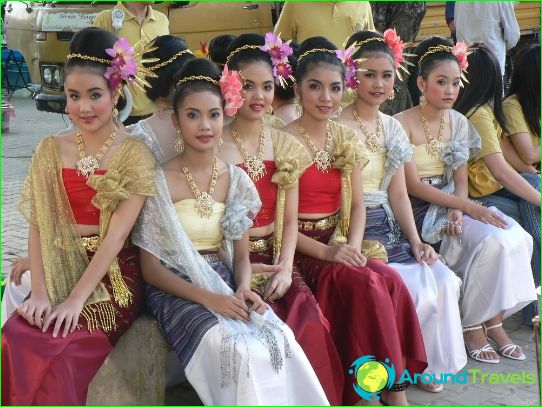 Thailand has a population of over 70 million.
The national composition of Thailand is represented by:
Thais;
the Chinese;
other peoples (Malays, Khmers, Lao, Burmese, Akhs, Vietnamese).
The Chinese mainly inhabit large cities, the Malays - the southern regions of the country, the Lao - the plain valleys of Isan, the Monas and Khmers - the central, eastern and northeastern regions of the country, the Yao and Meo tribes - the mountainous regions of the north and northeast, the Karen and Burmese - territories that stretch along the border with Myanmar, mountain tribes akha, fox and lahu - the northern regions, the Vietnamese - the northeast of the country, roving hunters and gatherers (semangi, sinoi, mauken) - inaccessible tropical forests.
120 people live per 1 sq. Km, but in the main agricultural areas the population density is much higher, for example, in the Mekong Delta, about 1000 people live per 1 sq. Km..
The official language is Thai, but Chinese, Vietnamese, and English are widely used in everyday life..
Major cities: Bangkok, Chiang Rai, Chiang Mai, Samut Prakan, Nonthaburi, Pakkret, Pattaya, Hatyai, Surat Thani, Khon Kaen.
Residents of Thailand practice Buddhism, Islam, Confucianism, animism.
Life span
On average, Thai residents live up to 70 years (female population lives up to 75 years old, and men - up to 71 years old).
Medicine in Thailand is at a high level (hospitals and clinics are equipped with the latest equipment). In recent years, the country has managed to significantly reduce child and maternal, as well as mortality from infectious diseases..
Before traveling to Thailand, it is advisable to get vaccinated against hepatitis B, tetanus, diphtheria, typhoid, rabies, yellow fever and Japanese encephalitis (which vaccinations are needed depends on the intended areas of visit).
Traditions and customs of the people of Thailand
Exotic, holidays, shows - all this is created for tourists who rest in resort cities and live in modern hotels in Thailand. Unfortunately, the Thai people living in the villages live in dilapidated shacks and are content with the modest benefits of life..
Thais are hospitable, cheerful and friendly people: they always smile, regardless of their mood.
Thais love holidays. So, the Loy Krathong holiday, dedicated to the spirits of water, is celebrated in November, on the full moon - on this day, the Thais put candles, incense, flowers, coins into krathong boats and release them into the river. According to legend, the boats will reach the spirits that will wash away all their Greeks from the Thais..
If the Thais invite you to visit, try not to step on the threshold when entering the house (this may be regarded as disrespect for the owners). Do you want to please the owners? Take off your shoes when entering the house. They should not be greeted with a handshake, but folded, as for prayer, palms at chest level.
Photos