Airport in Tunis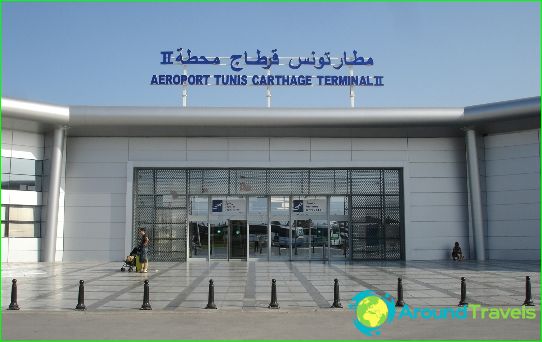 Tunis-Carthage is an airport serving the city of Tunis. It is located about 10 kilometers from the city center. It is worth saying that next to the territory of the airport are the ruins of one of the largest ancient cities - Carthage, hence the name of the airport - Tunis-Carthage.
Tunis-Carthage is the base airport for four airlines - Tunisair, Sevenair, Nouvelair Tunisia and Tunisavia, and about 20 airlines cooperate with the airport..
The airfield has two runways, 2840 and 3200 meters long. Both lanes are covered with asphalt. About 4 million passengers are served here annually.
Reconstruction
The airport in Tunisia is planning a major renovation. According to the plan, it should take place in the period 2015-2020. After the completion of all the work, the Tunis-Carthage airport will be included in the ten largest airports in Africa.
Services
The airport in Tunisia is ready to provide the most comfortable conditions for the stay of passengers on its territory. In the terminal you can use all the services you need on the road. Food points, shops where passengers can buy goods they need - clothes, food, souvenirs, perfumes, etc..
For business people, the terminal has a business lounge with free TV, Internet, meeting room, etc. At the same time, business class passengers are met at the gangway and escorted to the lounge by car..
The usual waiting room has comfortable chairs, ATMs, wireless Internet, etc..
Also, the airport in Tunisia is ready to provide a set of standard services - mail, left-luggage office, parking, etc..
How to get there
The city can be reached by public transport. There are two stops near the terminal, from which two bus routes depart:
SNT route. The bus leaves every 30 minutes, the fare is 0.9 dinars. Due to the low cost of tickets, buses are often overcrowded
TUT route. The bus leaves every 15 minutes, the fare is 5 dinars. The bus is highly comfortable.
Both routes lead to the city center.
You can also get to the city by taxi, the fare will be about 10 dinars.
Photos Tunis airport