Prices in Tunisia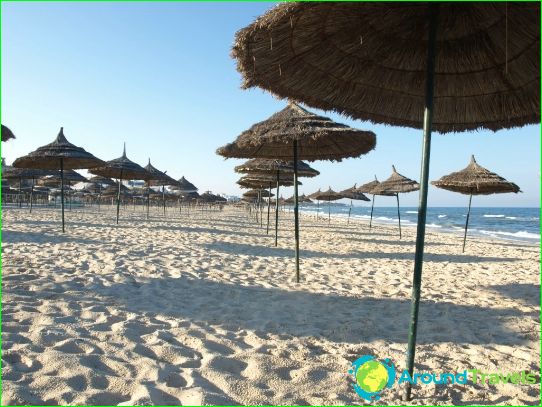 Prices in Tunisia are affordable for average income travelers. You can come here on vacation at any time, so if you wish, you can purchase a tour at a fairly attractive price. But the best time to visit Tunisia is from June to November (prices are slightly higher in these months).
Shopping and souvenirs
Shopping in Tunisia is, first of all, a trip to the Arab market, where you definitely need to bargain (if you wish, the price can be brought down 2-3 times).
If you decide to come to Tunisia for clothes and footwear of famous brands, then it is worth considering that in the capital's boutiques they are often more expensive than in European countries..
What to bring from Tunisia?
gold and jewelry with corals, pearls and colored stones;
silk and cashmere shawls and pashminas, carpets, mats depicting palms, camels and humans, copper, adobe and blown glass, local cosmetics and soaps;
dates (buy fruits hanging on a branch - this is a guarantee that they did not fall to the ground), olive oil, Tunisian spices, sweets and wine.
Olive oil in Tunisia can be purchased for $ 2-4, Tunisian wine - from $ 3, ceramics - from $ 3, spices - $ 1/100 grams, inexpensive Arabian-style jewelry - from $ 2, face cream - 8 -40 $, mud-based mask - 5 $, natural clay - from 2 $ / 1 kilogram, high-quality and beautiful handmade silk and cashmere carpets - 150-500 $.
Tours
A sightseeing tour of Suss will allow you to visit the Medina (the ancient part of the city), where you can admire the preserved fortress walls, watchtower, old mosque, labyrinths of the oriental bazaar. And in Port el Kantaoui, you will see the picturesque harbor and walk along the promenade. Excursion cost - 15 $.
Entertainment
With your other half, you can go on a boat trip on a pirate ship. "Corsairs" will take you along the coast, and then make a stop for you to swim in the open sea and fish (you will be provided with everything you need). The cost of a boat trip is $ 70 (the price includes a light lunch).
You can and should go to Tunisia for thalassotherapy. Various programs are at your service - pre- and postnatal, anti-cellulite and many others..
Approximate cost for various procedures: hot tub - $ 30, algae wraps - $ 28, hammam - $ 15, hammam with peeling - $ 30, 50-minute lymphatic drainage procedures - $ 55, anti-cellulite massage - $ 55 and Ayurveda - $ 75.
You can improve your health through thalassotherapy at popular resorts - in Sousse, Mahdia, Hammamet, Monastir.
Transport
Moving around Tunisian cities by public transport is very profitable: for a bus trip over a distance of 3 km you will pay $ 0.3, and taxi fares start from $ 0.4 per 1 km.
The daily minimum expenses (accommodation, meals, travel by public transport) in Tunisia will be approximately $ 140 and more per person.
Photos