Tours to Tunisia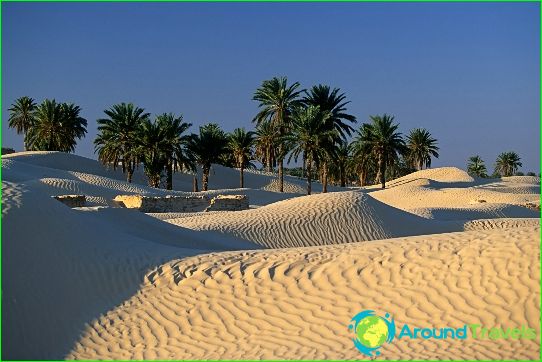 The capital of the state of Tunisia is located in the very north of the country on the Mediterranean coast. Due to its proximity, the climate in the city is much more comfortable for travel than in the southern regions of the country. When booking tours to Tunisia, it is worth considering the time of year for the intended trip. In summer, thermometers here often show +30 and even higher.
Briefly about the important
According to written sources, the city was founded long before the new era. The oldest surviving structures date back to the 13th century..
You can get around Tunisia by fixed-route taxis or trams. The tram network is called "metro" here, but it is not a metro in the usual sense of the word..
You can fly to the capital of the country by direct flight. There is an international airport in the suburbs. When planning tours to Tunisia, do not neglect connecting flights. They are most often much cheaper than direct.
The vast majority of Tunisians are Muslims. All important Islamic holidays are established here as official days off. Before booking a tour to Tunisia, it is worth making sure that the trip does not fall during Ramadan. During this period, almost all restaurants, shops and other institutions are closed during the day..
A former French protectorate, Tunisia hardly speaks English. In the capital, only about one percent of the population will be able to understand a tourist who turns to English for advice or advice..
A fairly liberal attitude towards alcohol in Tunisia allows tourists to order and taste wines in a restaurant or cafe. Tunisians themselves produce several varieties of dry wines, and as a souvenir from here you can bring the famous Tibarin date liqueur.
Wonderful city, ancient city
The main architectural and historical attraction in these parts is the ancient city of Carthage, founded by Queen Dido in the 9th century BC. A beautiful legend says that the queen, having received permission to buy as much land as the skin of an ox could cover, cut it into thin straps and girded a whole mountain. This is how Carthage arose, which became by the beginning of the 3rd century BC. largest state in the western Mediterranean.
Having existed for eight centuries, the city lost an important political influence and died out. Today's tours to Tunisia allow you to enjoy the former splendor and touch the ruins of the once important political and cultural center of the ancient world.
Tunisia - recreation and tourism

Photos