New Year in Side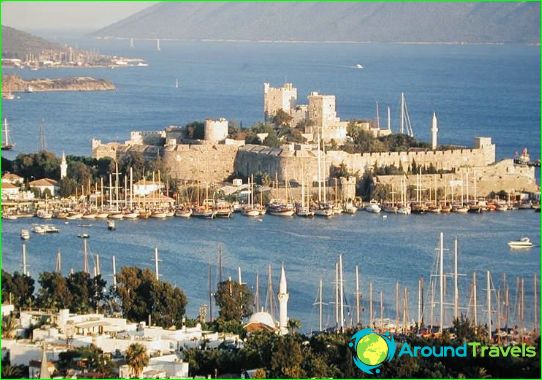 The popular Turkish resort on the Mediterranean Sea has long won the status of one of the European health resorts. In summer, there is nowhere for an apple to fall from those who want to get a bronze tan and have a great rest. The winter city is not so crowded with people, and therefore it is especially cozy and beautiful in its own way. Fans of ancient sights, oriental flavor and leisurely rest in comfort and peace come to celebrate the New Year in Side.
Under the blue sky...
In winter, the air temperature in Side is far from ideal for a beach holiday, although the sea does not cool below 17 degrees. But at this time, all lovers of archaeological sites have a chance to indulge in their favorite hobby with special comfort..
Founded in the 7th century BC, the city has preserved many unique masterpieces of ancient architecture, the most famous of which are the ruins of the 2nd century amphitheater, which accommodated about 20 thousand spectators, and the Temple of Dionysus with a fountain at the main entrance. The street with columns has hardly survived, but public baths can be seen today and even visit the museum, the exposition of which is dedicated to the ancient history of the city..
The holiday is in full swing
Celebration of the New Year in Side is noisy and on a grand scale. All hotels are trying to come up with something special for their guests: contests and entertaining games, performances by pop stars and a rich animation program, special bonuses for long stays and new dishes on the buffet.
On a festive evening, gala dinners begin in hotels, where famous artists become frequent guests, and after midnight fireworks compete in their scope with fireworks on Red Square.
Morning Side is empty and especially pleasant for walking. On the first days of the new year, sales are organized in its shops and shopping centers, where you can buy oriental handmade wool and silk carpets, gold and silver jewelry with the best precious stones, leather clothes and accessories. The prices are the most pleasant, and the assortment is capable of capturing the imagination of even the most notorious shopaholics..
New Year in Side is a great way to spend your winter holidays in the pleasant coolness of the eternally hot Turkey and enjoy this country to the fullest. This will not be hindered by either the too hot sun or the crowd of people in restaurants and hotels. And one more bonus - reasonable prices for tours and flights. Winter is not a season in Turkey, but it can be your best time to remember as the happiest.
Photos of the New Years celebration in Side