Railways of Turkmenistan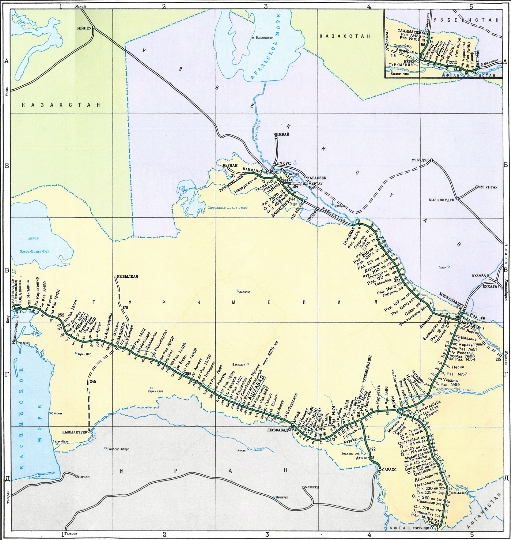 The railway sector of Turkmenistan is at the stage of modernization and development. It was built in Soviet times and still has a small number of lines. The main highway is Turkmenbashi - Turkmenabat (Krasnovodsk - Ashgabat - Chardzhou). The railways of Turkmenistan are gradually increasing their length. Today it exceeds 2330 km. Mary - Kushka and Turkmenabat - Lebap are considered significant routes..
Development of the railway sector
Rail transport is run by a state-owned company. The state occupies an advantageous position on the geopolitical map of the world. Turkmenistan is a transit region in which the transport complex plays a significant role. Transit routes are especially important. The country is trying to develop all types of transport: rail, road, sea, etc. Turkmen railways run mainly through the sands zone. The major stations are the following points: Ashgabat, Altyn-Sakhra, Gazachak, Atamurat and others. For the Turkmens heading to Moscow, the problematic section of the road is Talimarjan - Kelif, through which trains move in transit. Here you need to issue a transit visa for Turkmenistan.
The country's railway sector is actively expanding: new stations appear, rolling stock is being renewed, and a transnational highway is being built. A line was built along the Amu Darya River through the desert. The construction of railways is carried out in compliance with new technologies and in accordance with international standards. There are no popular international trains for passengers in the country yet. Trains run only within the state. The government has extended a branch connecting Turkmenistan with Kazakhstan, which connects the country with Russia. The most important section of the road Tejen - Serakhs - Mashhad stretches for 300 km, of which 132 km are located in Turkmenistan. This road directly connects Russia and the countries of Central Asia with the ports of the Persian Gulf.
Railway condition
Currently, seven pairs of long-distance trains and a small number of commuter trains are in use. The timetable for passenger trains can be viewed on the website http://www.railway.gov.tm and www.railway.gov.tm.
The Turkmen railway is a mixture of Soviet traditions and modern trends. The country's railway stations are designed in a traditional oriental style, but modernized in accordance with new trends. Trains created in China are used in Turkmenistan. A special feature of the cars is the presence of a compartment with 6 shelves. Trains are equipped with berths and air conditioning. The cost of tickets for sleeping compartments is low, so they are always in great demand. You can get to Ashgabat from Turkmenabat for 7 manats (about 70 rubles).
Photos