Things to do in Dubai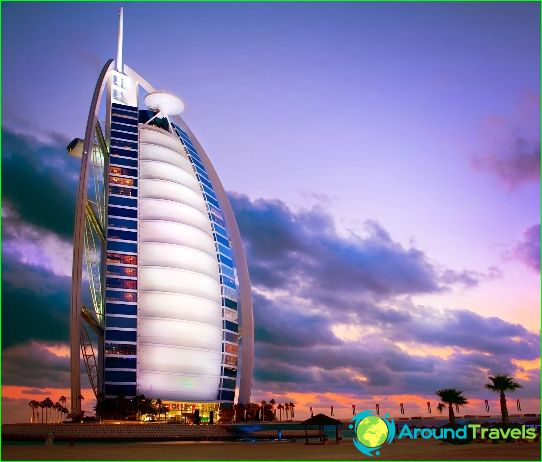 Entertainment in Dubai is fiery dances, tasting of gastronomic and alcoholic delicacies, amazing shopping.
Amusement parks in Dubai
"Wonderland": Vacationers here prefer to ride roller coasters and other merry-go-rounds, go karting, play paintball. Here you can climb up in a hot air balloon, ride down the slides at the local water park, play the role of a rocket (on the Space Shot attraction you "will shoot" up to a height of 7 meters). This amusement park has a Misty Lake - stop by in the evening to see the Water Mist Show.
Water park "Wild wadi water park": at guests' disposal - water slopes, more than 20 attractions, surfing pools.
What entertainment in Dubai?
Doesn't it sound fantastic: "Sand dune ski slalom"? Such unusual entertainment is available in Dubai: going on a desert safari, you will be offered to conquer the sand dunes, ride them, stand on special skis or a board.
If you are vacationing in Dubai in October-May, be sure to go on a 5-hour excursion, during which you can admire the Arabian Peninsula from a hot air balloon, then go on a jeep safari into the desert and visit a Bedouin village, where you will be offered to enjoy light snacks and fruit juices.
Do you like extreme entertainment? Welcome to the mall "Dubai mall": for those who wish, here, in the Aquarium, they organize swimming in the company of sharks and other marine life. If you are a certified diver, you do not need to do any preliminary training, but if you are a beginner, you cannot do without attending a short training course.
Do you like to shoot from hunting and sporting weapons or pistols of different calibers? You can do what you love in the shooting club "Jebel Ali Shooting".
If you want to take part in such an unusual game as camel polo, go, for example, to "Desert Polo Club" (before the game, you will undergo instructions and a short tutorial on the rules of the game, as well as get the necessary equipment).
Entertainment for kids in Dubai
Do you want to bring joy to your little one? Go with him to the water park "Aquaventure" (a play area has been created for children "Splashers").
Having visited the Dubai Dolphinarium, children will be offered not only to watch the performances of fur seals, dolphins and seals, but also to be trained in a children's school: teachers who speak different languages ​​tell their students about sea animals, do gymnastics and drawing with them.
Little visitors will surely like it in the Children's Town - game and computer centers, a planetarium, attractions, exhibition halls will be waiting for them ...
Dubai has everything for a fun pastime: for example, nightclubs are at your service. "Mix" (disco, occupying 2 floors, where there is also a chamber hall and a cigar room), "Rumors" (on Saturdays, the DJ arranges here "Night of surprises" - he gives guests alcoholic beverages, souvenirs, vouchers to enter the club), "Savage garden" (delicious drinks and a fiery Latin American repertoire are waiting for you here).
Photos