Attractions in Dubai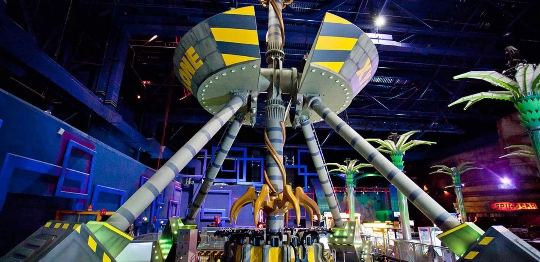 Dubai can be considered one of the most cosmopolitan and liberal cities in the entire Middle East. First of all, it is the largest financial and trade center in the region, so many exhibitions, conferences and festivals are held here. Also, the city has a very well-developed tourist infrastructure, there are several large amusement parks, thanks to which attractions in Dubai have long become known throughout the world..
A tourist who is here for the first time runs the risk of simply losing his head. Currently, Dubai offers tourists not only unique architectural monuments and the richest museum exhibits, but also a lot of opportunities for active recreation. So first, it's better to go the beaten path and visit popular places among foreign tourists..
Wonderland amusement park
This amusement park amazes with its gigantic size. Inside, it is divided into three separate zones and, in addition to the standard program for such establishments, also offers visitors such leisure activities as:
paintball battles;
karting;
ascents in a hot air balloon;
rides for surfers.
The main highlight of this amusement park is the unique attraction Space Shot, which invites everyone to play the role of the hero of the novel by Jules Verne. «From the cannon to the moon» - the visitor is shot into the air to a height of about seven meters. The institution is open every day except Sunday from 9.00 to 19.30.
Wild Wadi Water Park
Perhaps this is the most famous and visited water park in the city, in the spirit of the legends about Sindbad the sailor. The main attraction of this park is the 33 meter high water slope. The speed of descent from it reaches 80 km / h, so you will definitely not be bored. Wild Wadi is also notable for the fact that upon entering here everyone is given a special plastic wallet card, which is used to pay for all services. So you can put on swimming trunks and beach shoes, deposit your belongings and completely surrender to your rest. On exit, the remaining funds can be withdrawn from the card. Open every day from 13.00 to 21.00, ticket price $ 60.
Kid zania
One of the world's largest children's entertainment centers. It is a real city for children, located on an area of ​​7.5 square kilometers. First of all, it is designed for children and adolescents under 16 years old, although older visitors also have something to see here. Basically Kid Zania is a huge adult life simulator for kids. In a playful way, they can try themselves in one or another adult profession and even earn a little in this way. «kidzo» - the internal currency of the park. Kidzo can be spent on food and entertainment.
For parents, the Kid Zania amusement park is interesting because each child is given a bracelet with a tracking sensor, so you can safely let your child go free and not worry that the child will get lost. The park is open every day (9.00 - 22.00 Sun-Wed; 9.00 - 00.00 Thu; 10.00 - 00.00 Fri-Sat), a child ticket costs from $ 26 to $ 34, and an adult ticket is $ 25, and entrance is only possible for parents with children.
Photos