Holidays in the UAE in April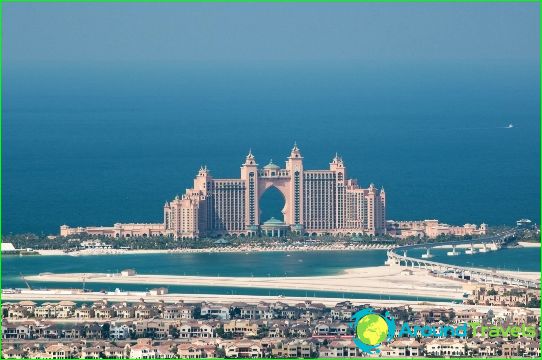 In the United Arab Emirates, spring is in full swing, but, judging by the thermometer, summer has long since come. It's a great time to open the beach season and explore the chic sights and national monuments. Holidays in the UAE in April will be unique, bright, memorable and very eventful. It is only important that tourists can break away from the gentle beach, lulling waves, and then the Emirates will open in all its eastern glory.
Weather in the UAE in April
The western coast warms up to +32 ° C during the day, while at night the bar drops and shows +20 ° C. Fujairah is ready to offer tourists a vacation at a temperature of +30 ° C during the day and + 19-20 ° C at night..
In the Gulf of Oman, water warms up to +21 ° C in the second spring month. In the western part of the Persian Gulf, water thermometers already show + 27 ° C. Tourists can leave umbrellas at home, in April in the UAE they are absolutely unnecessary. The problem of the month is different - strong fogs in the morning can disrupt the plan of morning excursions and trips..
Beach party
April is considered an almost ideal month to visit the UAE, so tourists looking for peace and solitude may forget the route here. But lovers of noisy rest in the company of close relatives and strangers will have a great rest and have fun here. The same crowd is observed in shopping centers. Although the season of sales and shopping festivals has already ended, the prices are still pleasing to the tourist.
Souvenirs and gifts
It is clear that goods produced under the brand name of well-known world brands will be bought up by a tourist in the first days of his stay in the UAE. But one should not forget about lovely gifts to relatives and friends. A wonderful and expensive gift - an ingot of gold - suitable only for the most important people in the life of a tourist.
Women will delight in spices and aromatic essences, silk fabrics and carpets. Real men's gifts - hookahs, Arabian daggers, made in the spirit of local traditions.
Camel festival
A wonderful holiday dedicated to the majestic ships of the desert takes place annually in April. Camels continue to play the most important role in the country's economy and are its symbol. Camel racing is one of the significant events of the festival. Tourists are surprised to learn that these clumsy and slow animals can develop decent speeds. During the holiday, an auction is held, the main lot of which is the camel, and the final cost surprises even wealthy tourists.
Vacation photos in the UAE