Railways of Great Britain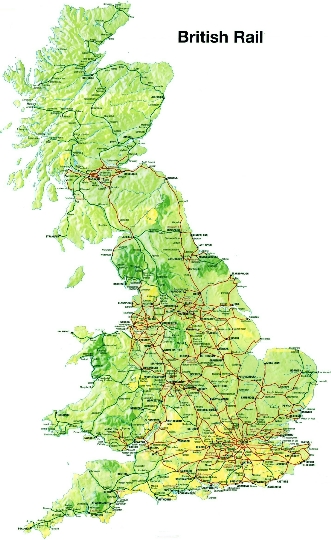 The railways of Great Britain are the oldest in the world. A significant part of the track is operated by the state-owned company Network Rail. The country has private railways, these include tourist lines. In total, there are 30 railway routes for tourists in the UK, on ​​which steam locomotives with old carriages run..
Railway system status
The UK rail network is connected to Continental Europe by an underwater tunnel that runs under the English Channel. The transport system in this country is considered one of the most developed on the planet. Communication between settlements takes place using various vehicles. Trains provide intensive and regular traffic. They run even to small and remote towns. Residents of suburban areas of London can easily get anywhere in the metropolis.
United Kingdom trains are capable of picking up speeds of up to 200 km / h. They are very similar to similar high-speed trains in Germany and France. British trains compete successfully with road transport. The schedule of their movement is quite tight, and delays are rare. The central departure point for British trains is London. This city can be reached by train from any locality in the country. The London hub has a complex infrastructure. Suburban areas and major lines are tied to it.
Train tickets
The cost of rail transportation depends on the operator. British carrier companies offer passengers a variety of tickets. There are travel passes and discounts here. It is best to book a train ticket in advance. This allows you to travel while saving money. For tourists, multi-day passes are intended, allowing an unlimited number of trips to be made. Passes can be purchased to travel throughout the country, Ireland or England. The National Rail website provides train schedules, fares and available tickets. This association was formed by UK rail operators to control passenger traffic and promote carrier services. A travel planner is available at cheaptraintickets.co.uk/national-rail. Railway tickets can be bought online using the services of intermediaries.
National Rail sells tickets of different types:
the most affordable - Advance, designed for trips on specific trains, bought in advance;
operate on any trains and are always available - Off-Peak;
the most expensive - Anytime, valid and sold at any time.
Photos