Airport in Dnepropetrovsk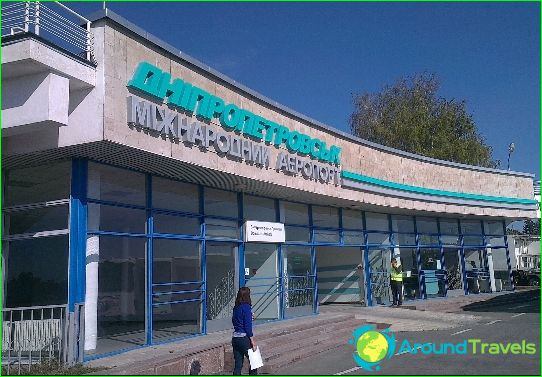 The airport in Dnepropetrovsk is located in the vicinity of the village of Starye Kodaki, 5 kilometers from the southeastern side of Dnepropetrovsk. It is considered one of the largest in Ukraine, has international status, cooperates with more than twenty airlines in the world and serves about a thousand passengers per hour. At the same time, the reconstruction of the airport continues to this day, and the number of passengers is growing every year..
History
The history of the creation and development of the airport in Dnepropetrovsk is extremely interesting. After the occupation of the city by the Nazis, in the vicinity of the village of Starye Kodaki, a military airfield was miraculously preserved.
For some reason, retreating, the Nazis did not destroy it. Remained untouched: a room for parking, maintenance and repair of aircraft, a runway lined with metal airfield plates, ancillary buildings and a capital one-story building. On the basis of this, in 1944, an airport was created in Dnepropetrovsk..
Already in 1946, the airport transported the first 300 passengers, and by 1952 their number exceeded seven thousand. In addition, postage is carried out, their turnover in the distant 1952 amounted to about ten thousand tons..
In 1990, such large airlines as EL-AL (Israel), Aerosvit, Austrian Airlines, Aeroflot opened their offices at the international airport of Dnepropetrovsk..
Every year the number of European, Asian and other airlines around the world is growing, wishing to cooperate with the Dnipropetrovsk airport.
Service and services
It should be noted that the airport in Dnepropetrovsk was one of the first to receive a certificate of the first category for the meteorological minimum of the International Civil Aviation Organization. This means that flight delays due to weather conditions are practically reduced to zero here..
While waiting for the flight, passengers can use the mother and child room, a good hotel that meets international standards in terms of its comfort.
Luggage storage, first-aid post, post office, ATMs work around the clock. There are also comfortable waiting rooms, cafes, cozy restaurants, a baggage packing point.
Transport
Buses No. 60 and No. 109 run from the airport to the city on the route "Airport - Railway Station". Both routes pass through the main streets of the city. Travel time is 30-40 minutes in the absence of traffic jams. The city center can also be reached by tram or taxi. Moreover, ordering a taxi upon arrival at the airport will be much cheaper..
Photos of Dnipropetrovsk airport