The best restaurants in Samarkand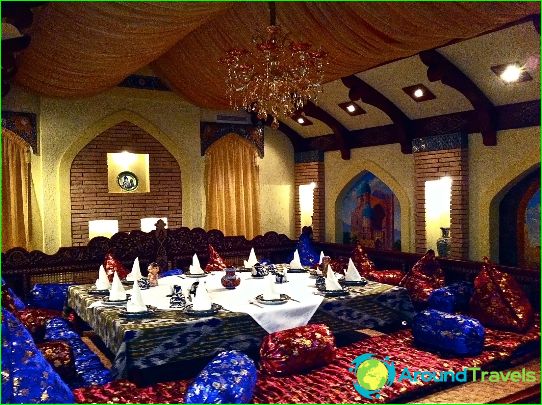 Uzbekistan is famous for its national cuisine, and not without reason. The markets are bursting with an abundance of fruits and sweets, and what are delicious tortillas and traditional pilaf! The best restaurants in Samarkand hospitably open their doors for everyone who wants to try the local cuisine and enjoy the unique flavor of the East.
National cuisine
All the most delicious that can be found in the national cuisine of Uzbekistan is offered in almost all restaurants of the city. The best ones are:
A restaurant «Samarkand». The menu includes both local and European and Russian cuisines. The restaurant has 2 halls, booths and a summer terrace. «Samarkand» considered the most luxurious restaurant in the city.
A restaurant «Kishlak». While enjoying a walk around the city, it is impossible not to notice «Kishlak». This place is unique for its ancient atmosphere and is suitable for those who are interested in the traditions and way of life of the Uzbek people. In addition to excellent cuisine, they will also delight you with generous oriental hospitality..
A restaurant «Sangizar».This is a huge restaurant - the whole complex can accommodate 1,500 people. There is a bar and even a VIP room. Here you should definitely try local cuisine: jiz biz (deep-fried lamb); kavob (lamb in its own juice); lyulya kavob (ground beef). European cuisine is also presented. Guests are entertained by professional performers, and the show program includes live music and oriental dances.
Coffee shops
For connoisseurs of this wonderful drink in Samarkand, a huge number of various coffee houses are open, where you can not only drink coffee, but also cocktails. They have a lot of various pastries and free wi-fi, so such coffee houses have long become a favorite place for young people. There are establishments with affordable prices, as well as more expensive thematic ones. The most popular coffee shop - «Starbucks», true, it's not American «Starbucks», and your local, but it's even more interesting.
The best Uzbek pilaf in Samarkand is cooked in «Sabine» and even the locals recommend having dinner there. For a good steak, it is recommended to go to «Greenwich steakhouse», and Persian and Afghan cuisine is cooked in «Oriental sweets caravan sarai» and «Labi gor». Ukrainian dishes can be tasted in a picturesque «Registon», and great pizza is made in «Venezia».
Arriving in Samarkand, you can not only relax among the diversity of another culture and see stunning sights, but also taste all the splendor of local restaurants.
Photos