Tours to Samarkand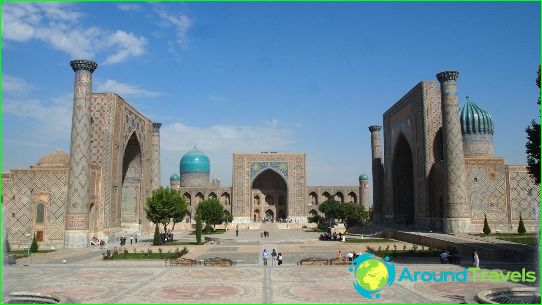 Colorful oriental bazaars and hand-made carpets made of the finest silk, the delightful smell of pilaf and bright skullcaps on the heads of girls decorated with hundreds of plaits, ancient domes of mosques and heat, a haze stretching beyond the horizon - all this is Samarkand, a city where every traveler begins to believe in a fairy tale ... Tours to Samarkand have always been very popular among compatriots, because even being "middle", Asia is full of mysteries and exoticism, especially since they still speak Russian quite well..
History with geography
One of the oldest cities on the planet lies in the southeast of Uzbekistan. Its history goes back several millennia. It served as the capital of the kingdom of Sogdiana and for two tens of centuries was the main one on the Great Silk Road, connecting the Old World with China. The invasion of the horde of Genghis Khan wiped out the ancient city from the face of the earth and for many years a desert reigned here.
The arriving army of Tamerlane brought Samarkand back to life and the gardens bloomed again in the city and mosques and madrasahs began to be built. In the XIV century, Samarkand was the capital of Tamerlane's empire, as evidenced by the preserved architectural structures and numerous archaeological excavations. It was Tamerlane's grandson who built all the most significant in the city and part of its cultural heritage can be seen during a tour to Samarkand.
Briefly about the important
Located in the heart of the desert, the city is extremely hot during the summer months. The air temperature in July can reach +45 in the shade, with practically no precipitation. In winter, the average daytime temperature rises to +10 on average, and the main precipitation falls in March and April. The history of weather observations also recorded subzero temperatures in winter, but this is more an exception for the southern city than a regularity..
The best way to get to Samarkand is through the capital of Uzbekistan, where you can change to a train or a local flight..
The most beautiful place to visit during a tour to Samarkand is the central square of the city. It is called Registan, like all the main squares in Central Asian cities. Samarkand Registan is famous for its unique architectural ensemble of three madrasahs. This was the name of educational institutions in Muslim countries, in which children received not only secondary, but also spiritual education..
Architectural monuments in the center of Samarkand were erected in the 15th-17th centuries. Today, the majestic buildings are taken under the protection of UNESCO and are included in the lists of the World Cultural Heritage..
Photos